'What to bring camping' is one of the most important things to get right to enjoy your camping trip. When family camping in tents,your checklist of things to take right is even more important.  No one wants to spend 5-days with a teenage son that is sulking because he's forgotten his favorite fishing rod.
Camping communities are, by nature, very friendly and helpful.  That is just as well. I have lost track of the number of times that we have been asked for the loan of a mallet, pump, water container… Forgetting something may not be too big a disaster. There is usually someone able to help.
If you are going off the beaten track to a dispersed campsite, or if you are going primitive or wild camping, there isn't going to be anyone to ask for help. if you have forgotten something, you will have to make do.
To be fair, there have been times we have forgotten things ourselves.  Luckily, it doesn't happen too often.  Jo is highly organized and keeps lists of just what we need to take whether camping, foreign vacation or just a weekend away for the 2 of us.
This article expands on one or two of Jo's family camping lists.
Every Family Camping Trip is Different
One of the deep, abiding joys of family camping is that every trip is different. 
What you actually pack depends on:
The purpose of your camping trip.  You would need a very different list if you were backpacking to, as we are going to cover in this article, a family camping break
How long you are planning on camping
What sort of camping you will be doing:

Leisure camping at an established campground with amenities
Dispersed Camping – well away from any camping (or any other) amenities

The space you have available in your vehicle.  Packing a family of 4 into a small sedan is a much bigger challenge that if your can just throw everything in your truck.
In this article we are going to look at a core family camping checklist.  There will be a link at the end of the article for you to download the list for your own use.
Remember, our philosophy is all about camping in tents, and with a very high degree of comfort.  Some of the items on our core list are intended to ensure our comfort levels are maintained.
Use Core Survival Needs as a Framework
Using a well loved and well-honed check list is the best way to make sure you don't forget to bring everything camping.  It can still be useful to build that list around the basic human survival needs:
Building you family camping checklist around these four essential survival elements will help you think about what you need to bring camping. For a family camping trip we would also include:
With this basic structure in mind – let's get onto the checklist. Click on any of the list items above to jump to the relevant section in our thoughts on the ultimate family camping checklist.
What to Bring Camping – Your Perfect Family Camping Checklist
As I said earlier, this list is oriented to a family camping trip.  If you are camping to take part in specialist activities and/or sports, you are going to need a different or additional checklist for each sport.
Water
Camp water
You are going to want a central store of water at your tent for thinks like cooking, coffee, washing food and so much more.  If you go to a regular camp site you are going to be able to use the site facilities for cleaning, washing and the like.  It's still useful to have plenty of water to hand in your tent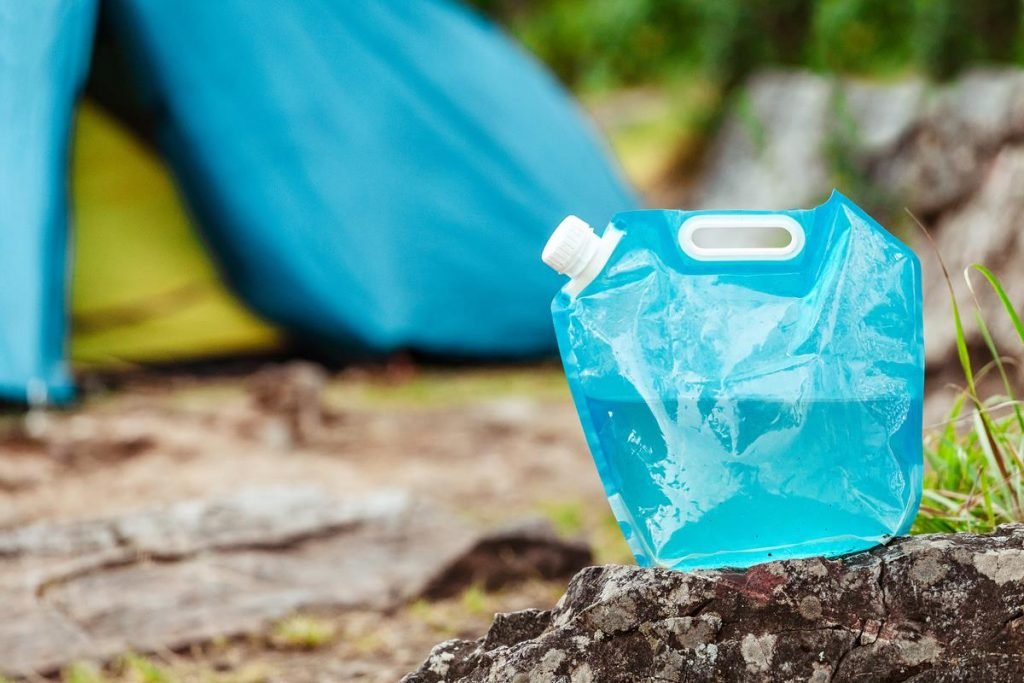 Personal Water
You need something for carrying personal water supplies for all people
Water bottles – at least one per person.  Everyone should be responsible for their personal drinking water requirements
Water carriers
Baby bottles
Other drinks
It's unlikely that you're are going to just drink water while away.  Don't forget things like:
Water Purifiers – Endless Fresh Water
Getting fresh water for drinking and cooking is an essential part of any camping trip. If you are not on an established campground with marked fresh water spigots you are are likely to need:
Water purifying tablets
Water filter and pump
Survival straw
Large kettle to boil water (for drinking)
Shelter
In a pure survival context, getting shelter from the elements – particularly wind and rain – is often the most immediate concern.  In a family camping context, our base shelter is the tent.  As we are looking for comfort, and not just to survive, there are a few other things to add under this heading.
Tents
Family tent:  double check for:

Poles
Stakes
Guy ropes/lines

Ground sheet/tarp – most family tents now have built in, bathtub floors so a tart as a footprint or ground sheet isn't needed
Tarp – there are 101 things you can do with a tarp on a camping trip.
Mallets (for stakes – if you don't already have a mallet or camping hammer– get one with a hook for pulling out stakes)
Tent repair kit – you will often get patch material and glue with a new tent
Rope/paracord – great for improvisation and/or emergency repairs
Gaffer tape – "if you can't fix it with gaffer tape – you are not using enough tape"
Super glue
Clothes
As a major part of the concept of 'shelter;' is to keep you dry and warm, I have included some notes on camping clothing here.  What clothes to take is a very personal issue.  When we go camping my wife has a separate checklist showing normal clothing for each of us.
These items are the minimum that you should include in your camping packing:
Underwear
Base layer
Worn next to the skin
First step in temperature control
Moisture management – wicking
Middle layer
Fleece
Sweatshirts
Woollens
Outer layer – wind and rain proofing
Wind cheater
Rain jacket
Lower body
Trousers – tend to prefer lightweight hiking pants over jeans.
Shorts
Skirts
Dresses – we might get a night out dancing
Socks:
general use
walking/hiking
Shoes
Hiking
Trainers
Flip flops – shower shoes
Evening – just might get a trip into a local bar
Boots – Hiking
Sports gear – you will need a separate checklist for many sports.  Don't forget:
Swimming trunks
Swim suit
Other items
Sleepwear – pyjamas
Gloves/mittens
Hats
Scarves
Neck gaiter
Sunglasses
Baby stuff – my kids are fully grown with no grand children in sight – so I feel unqualified to write at length about baby stuff.  Anyone with babies or young children probably has an enormous checklist already for when you leave home with the baby. Some obvious items include:

Diapers (unbelievably, we know people who forgot to take spare diapers on their weekend camping break)
Diaper bags
Clothes

Daytime
Night-time – pyjamas, sleep suits
Hat

Baby food/drink
Cot/crib and baby bedding/sleeping bag
Infant paracetamol – Tylenol etc
Bottle
Sterilizer
Baby Wipes
Bibs
Diaper Rash Cream
Portable pottie
Food
What food to take camping is a hugely personal area. You need to spend some time on meal planning before you set out.  All we can hope to do is give you some ideas of the basics.
When thinking of food, we also consider transporting it, keeping your food safe from predators and safe to eat, and cooking
Essential Food
Snacks
Trail mix
Granola bars
Potato chips
Popcorn
Cookies
Beef jerky
Dried fruit
Chocolate bars
Nuts
Marshmallows – great for roasting on the campfire
These are just a few ideas to get you thinking.  If you are short on space, items like potato chips can be very bulky and tend to get crushed.
If you have a long road trip with children to get to your campsite, you need to think about the snacks you need, ready to hand, inside the car.
Breakfast
Breakfast is one of our favourite meals when camping.  We've usually found a place close by where we can bacon, eggs and milk.  You probably need to carry foodstuffs for at least your first breakfast with you.
Cereals
Bacon
Eggs
Sausages
Hashbrowns
Bread
Milk
Coffee
Butter
Fruit
That would be enough to get us started on the first morning.  You need to think about what you would need to carry.
Mid-day
For our camping trips, lunch tends not to be a big deal.  We will most likely get by on a snack – something like trail mix, dried fruit and nuts.  If we are out sightseeing or doing some activity, we will buy a snack or sandwich while out.
Here are some ideas for things you might like to pack for your lunch:
Bread – sandwiches are great
Salad stuff
Tortillas – a wrap can be much easier to handle than a sandwich
Sandwich meats – the pre-packed stuff from the super market can be great when camping
Cheese
Noodles
Rice
Canned stuff – tuna
Rice
Noodles
The key is, to think about this before packing and setting out.
Dinner
Dinner is an interesting time.  We plan on filling our stays so much that everyone is tired and mellow for dinner.  For this reason, easy to cook foods rule.  We typically eat far too much red meat – particularly burgers and steaks.
Burgers
Steaks
Pasta
Hot dogs
Sausages
Onions
Carrots
Zucchini
Peppers
Garlic
Potatoes
Sweet potato
Spices
Condiments
Ketchup
Salt and pepper
Vinegar
Oil
Mayo
Camping Kitchens and Stoves
So, you have some essential food items.  You now need to prepare and cook the meal.
When I first started camping, just about all the food came from ration packs (see the About Camping Sage page) which was heated on small, solid fuel burners.  Any preparation was done sat or lying on the ground.
I must tell you, that is not a viable option for family camping.  The ability to stand up and cook on a decent stove is essential.  That is where camping kitchens and good camping stoves help.
It is possible to cook over your campfire. It takes a bit of skill and experience though – not least, in learning how to build your campfire for cooking.
State and National Park sites will often include fire pits on each tent pitch. These make life much easier.
Camping Kitchens
We have a whole post looking at the features and usability of camping kitchens.  If you have never seen them, a camping kitchen is usually a fold-flat storage rack.  It will have:
an area, usually with built in wind shields, for the stove. 
A special place for the gas tank. 
One or 2 tabletops as preparation areas
Many will include canvas cupboards with shelves for storage
We strongly recommend you include a camping kitchen in your camping packing list.  It will make your life so much easier
Stoves
There is a huge variety of camping stoves available.  For a family camping trip we suggest you go for a minimum of a 2-burner gas stove.  If you can spend a bit more, you should go for a 2-burner combo stove with grill and griddle.  It will make your camping cooking so much easier.
Cooking Utensils
We've fallen foul of this one.  We had the food, kitchen and stove – we just forgot the container with all the cooking utensils. 
Here's a list of the basic items:
Tongs
Spatula
Ladle
Pasta server
Bottle opener
Chef Knife
Scissors – tip, get scissors that include a bottle opener
Cutting board
Roasting Stick
Serving Spoon/ Fork
Paring Knife with Peeler
Aluminum foil
Stretch film/wrap
Small plastic bags
Large plastic bags
Plastic tablecloth – can make clearing up a breeze
Reusable, sealable, silicone bags
Collapsible food storage containers
Tableware
If you are going backpacking – it's OK to just carry a mess tin and a spork.  There is nothing that stops you eating (and cooking) everything in the same tin.  Nor is it impossible to eat everything with a spork (hastily wiped on the back of pants between courses).
Just because it's possible doesn't mean it is good (though your kids might just love it). 
When setting up for family camping, we believe in being comfortable and civilized.  That means proper tableware for each person.
The easiest way to get started is probably to buy a camping tableware set.  This will typically contain:
Cutlery: Knives, Forks and spoons
Large plates,
Bowls
Mugs
Carrying/storage case
You can choose from plastic, enamel or plain steel plates and bowls. We prefer plastic as food tends to stay warm for longer.
You can buy these sets with differing numbers of place settings from 4 to 8.  Out tip is to buy a set with one or 2 more place settings that you need.  You might have guests.  Over time, one or 2 items will go missing or break – it's good to have spares.
Glassware
Actual glassware is rarely a good idea when camping.  Everyone spends time with bare feet so any broken glasses are an immediate health hazard. There are some great alternatives specially made for camping:
Plastic wine glasses – not as bad as they sound
Plastic tumblers
Stainless steel shot glasses – there is quite a range of lowball, highball and whiskey glasses
Kitchen furniture
We have played the game of eating while standing and holding a plate.  We have done the same while sitting and balancing a plate on our knee.  It's possible.  It's even fun – once in a while.  If you are edging to the more comfortable end of camping, we suggest eating at a table.
Many camp sites have picnic tables dotted around.  Every national park campsite is likely to have picnic tables, fire pit and a barbecue.  Sometimes, the tables provided are not good to use.  We find it is best to take a folding table with us.
There are many folding camping tables available.  Some come with attached seats.  Others include folding stools.  We review the best elsewhere. 
In the end, you camping checklist needs to include 2 items:
Folding camping table
Chairs/stools for sitting at the table.
Cleaning
Collapsible washtub
Washing up liquid
Washing up gloves – get some small ones too.  It's a great time to introduce the smaller ones to the concept of washing up – especially if it's always done in the dishwasher at home
Washcloths – sponge with scouring pads work well
Tea Towels
Hand Towels
Coolers
Coolers and cool boxes have improved enormously over the last few years.  Improvements in insulation technology means that even a regular cool box can stay cold for up to 48hours.  If you invest in a more modern, rotomolded cooler you could see ice lasting as long as 10 days.
Our current top pick ice chest cooler is the RovR Wheeled Camping 60 Quart Camping cooler.
It is a super modern, rotomolded cooler with tough wheels for easy handling.
12V Coolers (AC or DC powered) can be even better.  Cheaper thermoelectric coolers reduce the temperature in the cooler by around 40F from the outside temperature. This will keep your food safe to eat wherever the outside temperature is 80F or less.
Our current choice of  thermoelectric cooler is the Knox 48Qt Electric Cooler.  All the coolers we looked at in our 2020 review were good. The Knox 48Qt came out on top because it includes DC and AC leads, and it has wheels for easier handling.
You can now buy 12V Fridge Coolers. Most can work as either a freezer or a cooler. A few have dual zones and can provide both fridge and freezer functions. The best of these are able to get the temperature inside the cooler below 20F in just a few minutes.
Our choice of fridge cooler for 2020 is the LiONCooler 1st Battery Powered Portable Solar Fridge Freezer.  It is the first cooler that runs off an internal, rechargeable battery.  It is not directly solar powered which is a bit misleading.  Instead, you can charge its battery from a solar power source.
It is perfectly possible to feed yourself camping with dried or tinned food. For comfortable family camping you are going to want some good fresh food.
If you are taking fresh foods with you, a cold box or cooler is essential.
Food Boxes/Bags
If you are thinking of camping anywhere where there could be bears you need to take extra precautions with storing food. 
Yellowstone provides 3 options:
Keep all your food stored in your car
Use the bear-proof storage boxes provided
Hang food from poles at a height bears can't reach
Most national park campgrounds have similar rules. If you are going into the backcountry and there may be bears you need to take specific precautions.  See https://www.nps.gov/yell/planyourvisit/campinginbearcountry.htm for more details
Of course, if you are backpacking and carrying your food with you, the bear proof storage boxes may not help.  There are a variety of bear-proof storage containers available from all camping outlets.  These provide a degree of protection for you food.
Sleep
Lack of sleep is a sure way of ruining your camping trip.  Waking up for the first morning stiff and in pain is not good either. 
Luckily, there is an enormous range of options to make sure you get a good night's sleep. 
This is another very large, complex part of the ideal camping setup.  Not surprisingly, we devote several articles to sleeping comfortably while camping.  As a minimum, you need:
Sleeping pads or, inflatable mattress, or camping cots.  For your first family camping trips we recommend inflatable mattresses – double for couples, singles for kids.
Pumps to inflate mattresses
Sleeping bags
Rectangular bags for adults.  Couples may want to investigate double sleeping bags or rectangular bags that can be zipped together.
Children may well prefer 'mummy' bags.  Mummy sleeping bags are also the choice for backpacking or where light weight is important.
Unless you are going to be camping in colder climates, a 3-season sleeping bag should be just fine.  3-season means that it is rated to be warm enough for spring, summer and fall camping.  If you camp in winter you will need a specialized sleeping bag.
Blankets – just in case it does get a bit cold at night. 
Pillows – sure, you can improvise.  Inflatable pillows don't take much to pack and they can make a big difference to the quality of your sleep.
Pyjamas – whatever you feel comfortable sleeping in.
Robe/gown – great for getting to communal restrooms or showers (or even to visit the bushes at night)
Lights/flashlights – not strictly to do with sleeping.  We recommend every person has a LED light or flashlight close to hand when sleeping.  It is going to be really dark if you wake up in the middle of the night.  Being able to see your way around the tent is essential.
Personal
We are all individuals.  WE all have our own personal gear that we need to pack.  Some of the items to consider are:
Glasses/spectacles
Sunglasses
Glasses cleaner
Contact lenses
Contact lens kit
Camera
Binoculars
Sunscreen
Bug repellent
Flashlight
Pocket knife
Phone
Headset/ear buds
Toys
Cuddly toy
Gloshes/Wellington Boots
Compass
Maps
GPS
Money/credit cards
Hygiene
The need for good hygiene while camping is clear. It covers personal hygiene, hygiene in and around the tent, and the basics of hygiene of the campsite
Personal hygiene
You can go for a 4- or 5-day camping trip without washing.  It's not something we recommend unless you are on an off-grid, long hiking trip. 
Most stuff is obvious;
Toothpaste and brushes
Shower gel or soap
Shampoo and conditioner
Razer/shaver
Hand sanitiser – great to have in the tent as a quick hand wash
Deodorant
Lip balm
Towels
Hairbrush or comb
Hair ties and/or clips
Feminine hygiene products – Not one for me.  You know what you need.
Cosmetics/perfumes
Small mirror/camping mirror.  Camping mirrors are unbreakable and are good for carrying in backpacks
Some things are less obvious:
Toilet paper – Not always supplied – even in state campgrounds.  Rest rooms at camp sites are known to run out.  You may need to use the bushes too.  Absolutely essential if you are dispersed or wild camping.  Just make sure you only use plain, white, unscented paper.  You should take toilet paper away with you after use for disposal, so a few resealable plastic bags should be included in your toilet kit
Wet wipes – must be taken away from dispersed or wild camp sites for disposal.
Tissues
Tent Hygiene
Keeping the inside of your tent clean and tidy pays dividends the first time you need to get up in the middle of the night.  Falling over discarded shoes, clothes and rubbish is not fun.  
Hanging tent organizers – one per person or, at least one per room in the tent.
Collapsible trash can
Trash bags
Dustpan and brush
Camp surrounds
Keeping you camp surrounds clean and tidy is important.  In bear country, any food scraps, including apple core and fruit peel are likely to be attractive to hungry bears.  Many camp sites will be home to a variety of rodents who will also be attracted to any food waste.
* Bear spray is the only thing that helps keep you and bears safe. Don't fall for any of the crazy stories on the web or Youtube about Bear Spray vs Wasp Spray. Nor should you ever use self-defense pepper spray on a bear – you are likely to seriously harm the bear and you could incapacitate yourself too.
First Aid
Make sure you carry a first aid kit.  Keep is especially for camping
Check first aid kit
Top up used items
Replace out of date items
Medication
If you take personal medication you should create your own medication checklist.  In addition to the first aid kit we normally carry a few additional items:
Check personal medication
Paracetamol
Ibruprofen
Aspirin
Immodiums
Sting relief cream or wipes
After sun lotion
Sunburn gel
Stretch bandage – it's great for minor twists and sprains for which I don't like to open the first aid kit
Comfort/Luxury
Now we have the basics out of the way we can think about some of the items that can make the camping trip that bit more comfortable.
Phones, tablets etc
Magazines, books, Kindle
Solar chargers for phones tablets etc
Camp chairs/recliners
Canopy chairs – great in the sun or when fishing
Tent door mat. 
Hammocks
Inflatable sofa
Camp shower
Tent heater
Tent air conditioner
LED solar lights
LED solar guy rope lights – find your tent and don't trip over the guy lines in the dark
Wifi/Bluetooth speaker
Headphones or ear buds
Pop up camping shower
Camping Generator – essential for keeping your tent fan or heater working when you are wild camping
Electric hookup connector – only applicable on major campgrounds and when a pitch with hookup has been reserved.
Outdoor connection cables for generator and/or hookup
Miscellaneous
No matter how hard I try to provide a logical (?) grouping of items, some things still drop out into a miscellaneous heading.
Sewing kit
Tweezers
Camping clothesline
Camping multitool (x2)
Axe
Hammer
Saw
Adjustable/multi wrench
Screw driver
Etc
Folding spade – drainage, latrines, fire pit, putting campfire out
Matches/lighter
String
Scissors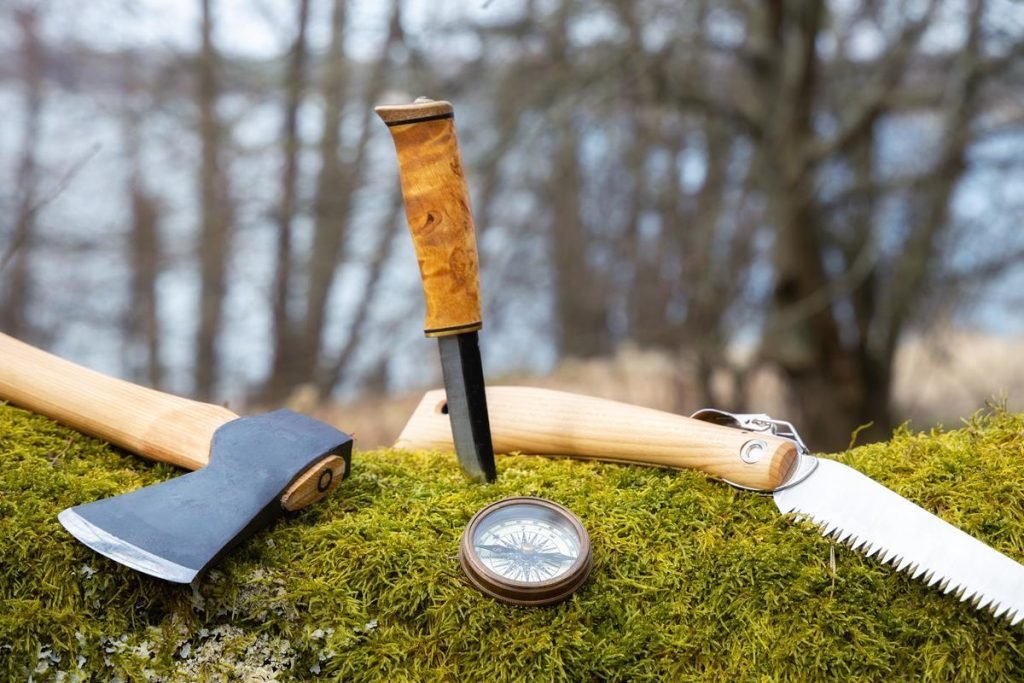 Activities
There are hundreds of activities that are great matches with camping.  Hiking, fishing, kayaking, canoeing and climbing to name but a few.  We can't tell you what to take for the activities you have planned.  These are some of the things that seem to work well on just about all of our trips:
Frisbee
Soccer ball
Football
Ball and catching mitt
Kite
Giant jenga
Bocce set
Badminton set
Tennis rackets
Playing cards
Scrabble
Charades
Pictionary
Talking, joking, goofing off – these are the joys of camping.  No kit required. Take a look at our posts for some more adult oriented camping activities too. Sorry. There is nothing risque.
If you liked this article you may also like: