Camping is a fun outdoor activity. You are going to be in the fresh air and active each day.  Healthy, tasty meals are essential for your fun and energy levels. Preparation can be much easier with a well designed camping tent kitchen and the right kitchen accessories.
When you are camping in tents, preparing meals for the whole family can be challenging. Cooking for a family on a small, single burner stove, while lying on the ground to be able to use the stove, just doesn't work.  You will need to create your own camping kitchen.
If you are new to camping kitchens, after reading this article you should be ready to plan for your own setup. We are going to cover:
What is a Camping Kitchen
Why Camping Kitchens are a great idea
The 7 Camping Kitchen Accessories I'd Never Camp Without
What is a camping kitchen?
A camping kitchen is part of your home-from-home. Done right, it will improve your camping comfort and enjoyment.
Like any kitchen it is going to include:
A stove
Storage – food, cookware and utensils
Food preparation area
Refrigeration – cooler or fridge cooler
Water
You will often want/need to setup your kitchen some way away from your tent. In this case you are likely to want a tarp or 2 to define your space and to act as windbreaks and shelter.
Why is a Camping Kitchen a Good Idea?
When we first started camping, we always camped at well-established state campgrounds.  We were never too far from civilization and often ate takeaways or skipped out to restaurants.  Very quickly we realized that this was not an acceptable approach.  It was expensive.  We ate too much junk food.  And jumping in the car every day to search for a new food outlet took away from the joy of camping.  In the end it felt like cheating.
If you want to start wild camping and to pitch your tent further from civilization, you are going to need to master family camping cooking.
I guess the real reason why a camping kitchen is a good idea is that it makes it much easier to prepare food. A kitchen unit, with a propane stove, and food preparation surfaces, absolutely beats trying to lie on the ground to use a small, single burner stove.
Just as importantly, planning your camping kitchen setup helps you plan for all of your food requirements.
A Typical Camping Kitchen Setup
Just as with your home kitchen, there are lots of options for building and setting up your camping kitchen.
Your typical camping kitchen should have a stove, food preparation surfaces, food and equipment storage, drinking water, pot wash, and garbage disposal.
For efficiency when preparing meals outdoors, consider putting up a tarp shelter that will also act as a windbreak. Moreover, the tarp shelter will protect your food and stove from weather elements like rain and direct sunlight.
7 Camping Tent Kitchen Accessories I'd Never Camp Without
1. Portable Camping Kitchen
There are lots of portable camping kitchen units in the market. They are designed to provide a compact, all-in-one camping kitchen solution. These camping kitchens provide a stable platform for your camping stove (usually with integral wind), food preparation areas, storage/cupboard space, and, hooks for your pans, utensils and towels.
It is hard to convey just how much difference a camping kitchen unit makes to your whole food preparation and cooking experience. It took us quite a while to embrace the idea. After all, it is another quite big item to add to our car camping packing list. Once we made the move, we wished we had done it sooner.
Examples of Portable Camping Kitchens
Here's a couple of examples of portable camping kitchens:
Faulkner 49583 Camp Cuisine Portable Kitchen

The Faulkner provides good platform for your stove and has good storage. It doesn't provide any additional space for food preparation.
Laralinc Camp Kitchen Table Deluxe

The Laralinc provides good space for the stove and good storage. We particularly like that it also provides an area on the left for food preparation, and, a second, smaller table to the right so you can easily take your pans off the stove to cool when required.
All portable camping kitchens fold flat for transportation. It is still quite a large package. When we bought ours, we also ended up buying a cargo box. Cargo boxes are great but that is a topic for another time.

You just might need to add a cargo box to your camping packing.
It's for good reason that a Camping Kitchen is the joint top item on our essential list.
2. Gas Camping Stove
If you are new to camping you probably think wistfully about cooking over an open campfire.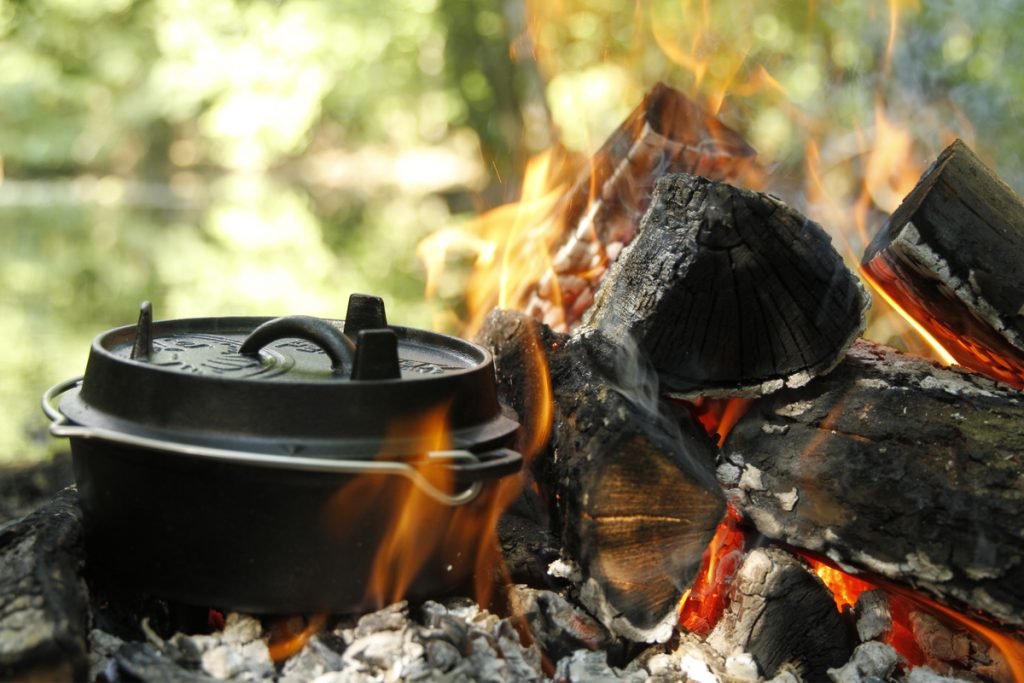 That's great.
Some meals are perfect for cooking that way. Hotdogs on sticks, foil wrapped corn and potatoes, followed by marshmallows and S'mores for example.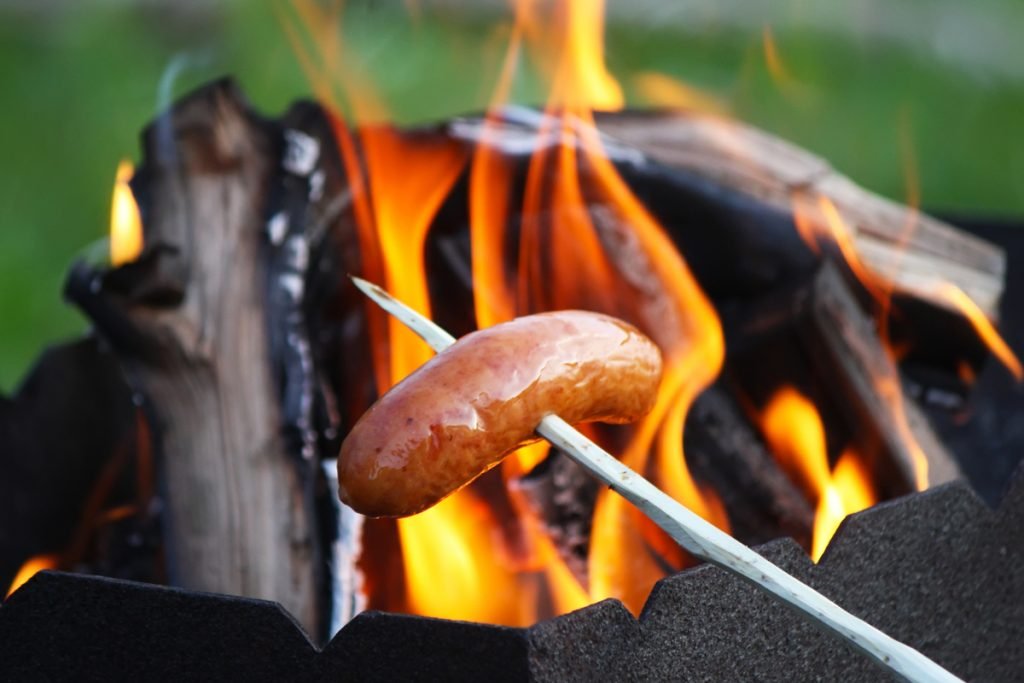 We heartily recommend planning at least one meal for campfire cooking in your camping trip. The whole family can be involved with the kids cooking hotdogs on sticks, steaks being cooked in a cast iron skillet, and potatoes and corn wrapped in foil cooking gently in the campfire embers.
Truth be told, cooking on a campfire can be hard work, with less than certain results. It is much easier (with more predictable results) to use a gas stove for the majority of your cooking needs.
For any family camping trips you are going to want a multi-burner stove. For us, 2 burners and an integrated grill works really well.
Single burner stoves are OK for backpacking. For cooking family meals multiple burner stoves add much more capacity and much more versatility.
Most multi-burner stoves use propane as fuel. You need to plan to propane canisters in your camping pack up. It is possible to buy stoves that use other fuels such as gas or alcohol. You can even get dual fuel stoves that can run on propane or gas.

The Eureka Propane Stove is our current pick of twin burner stoves
Butane stoves tend to be smaller and primarily used by backpackers.
If you are not planning on using a kitchen unit, choose a stove with adjustable legs to allow for easy set up even in an unstable platform. A great example is the Camp Chef Explorer Double Burner Stove.

The Camp Chef Explorer also provides an enormous 60,000BTU output for quicker cooking.
Most camping stoves have piezo-electric starters. Just push the button and you get a spark to light the gas. As we learned the hard way, these can break. Always make sure you carry a lighter, fire-starter, or matches as backup. Otherwise, you'll be rubbing sticks against each other for ages.
The camping stove is our joint top camping kitchen accessory.
3. Refrigeration – Cooler, Fridge Cooler, or both?
For us, a great camping cooler or fridge cooler is an essential part of our camping pack. We love keeping our food fresh and drinks cold for longer.
It is perfectly possible to camp without using a cooler or fridge cooler. Just think of:
Pasta
Spaghetti
Potatoes
Fresh vegetables
Fresh fruit
Dried fruit
Canned foods:
Cured meats

Jerky – beef and chicken
Salami and peperoni

Noodles
Rice
Cereals
Oatmeal
Nuts
…
There are even a whole range of dried meals specially formulated for campers. Just add boiling water, and you are good to go.
After a while, dried food gets a bit dull. We like our burgers and steaks too much to go for a complete dry food or canned food diet. For us, a quality cooler or camping fridge is an essential part of any camping trip.
Not only will a good cooler help keep your food fresher for longer, it will also let you have a cold beer or two to cool down that thirst after a hot and active day.
Camping Cooler or Camping Fridge
Trying to decide between a cooler and a fridge? It's not an easy choice.
The Case for a Traditional/Ice Chest Cooler
Coolers seem easier. You just add your food and drink, throw in some ice, and you are good to go. A modern cooler can keep your food and drink cold for up to 10-days. Trouble is, that takes a lot of ice. You need to pack your cooler in a ratio of 2:1 ice-contents.
If you opt for a cooler, buy one with excellent insulation, strong built, and a compact size for storage and portability. Our current pick of ice chest cooler is the RovR Wheeled Camping Cooler 60Qt

The RovR has great capacity, strong wheels and handle for getting around, and, it will keep your food cold for up to 10days
Fridge Coolers
It took us a while but we made the move to a fridge cooler. It wasn't an easy decision – fridge coolers need power.  Getting electricity to your cooler for several days can be a challenge.
You can power your camping fridge from your car battery for a limited time.  A camping fridge will drain your battery. Anything more than a single night and you need to think more deeply about how you will power your fridge cooler.
The easiest option is to camp where you can get an electric hookup. That limits you to a small number of well established, leisure campgrounds. If you link it to your car, you will drain your car battery whenever your car is not running. For us, the answer is to use a camping inverter-generator.
It is possible to side-step some of the problems with powering a fridge cooler by getting one that uses batteries as an alternative source of power when you're off the grid. Our current choice of camping fridge cooler is the LiONCooler 1st Battery Powered Portable Solar Fridge Freezer

LiONCooler uses its own replaceable batteries to power the cooler for up to 10 hours. With spare batteries, you can easily keep the cooler cold for a day or 2 without access to any external power source. The batteries can be recharged using solar power panels – sold separately.
4 Camping Pan Set
As we explore on our article, "Can you use normal pans for camping", you don't need special pans for camping. However, if you want pans that pack well, and are good for both cooking on your camping stove and your campfire, you are going to need a dedicated Camping Pan Set.
If you read the article on camping pans, you will see we are big fans of cast iron. A great example is the Stansport Cast Iron 6 Piece Cookware Set

Stansport Cast Iron Set. Note the handle for lifting the lid on the dutch oven while you have it suspended over your campfire
The problem with cast iron is, of course, weight. It is incredibly heavy and it doesn't always stow away well for packing. If you have the space, go for cast iron. For most of us, we need to look at dedicated camping pan sets like REDCAMP Camping Cookware Sets

Redcamp Camping Cookware is available from 9 to 23 piece sets.
One thing we would never do with cookware sets like Redcamp's, is cook on the campfire. If you really have your heart set on campfire cooking you had better stick with cast iron sets.
5 Water Container With Spigot
One thing is certain while cooking – you are going to need plenty of clean water. For extended, wild camping trips, you will need a ready source of drinking water. We cover this on our article, 'How to Get Fresh Water While Camping', so we are not going to discuss this topic here.
Assuming you have plenty of fresh water, you need to make sure it is easy to access while cooking. There are many water containers with spigots available. However, we recommend you get at least one collapsible water container. They are much easier to pack in the limited space available in most cars.
The SurVivv Collapsible Water Container with Spigot is a great example.
If the capacity of the SurVivv seems a bit light – try the WaterStorageCube with about twice the capacity.
Top tip for collapsible water containers – never get round sided containers. When you are cooking, you need to be able to quickly and easily access the spigot. A flat sided container will sit on a table and chair keeping the spigot pointing down and available. Round sided containers tend to roll as you try to use them.
Cooking Utensils
There are a few camping cooking utensils that make it on to our 'must have' accessory list.
6 Barbecue Tool Set
A barbecue tool set is a great addition to your camping cooking kit. You can use them when cooking on your camping stove. The longer handles also make them good when you are cooking over your campfire.
There are many good barbecue toolset available. One great example is Alpha Grillers Heavy Duty BBQ Grilling Tools Set

With Tongs, Fork and Spatula, and, with 18inch handles, you can cook and keep your distance.
7 Camping Cooking Knife
When cooking at home, it is amazing how many knives are typically used in preparing even relatively simple meals. Most of us have knife sets with anything from 5 to 12 or more knives.
It is not practical to take so many knives camping. Instead, we look for one knife that can do most things well. As always, there are many choices. One example is the XYJ Kitchen Camping Knife.

The XYJ Camping Knife may not do everything but it does most things well
Conclusion
That's it. We have stopped the list at just 7 of what we consider the most important camping accessories. There are many more items we could include such as:
Tarps
Paracord
Lanterns and hooks
Campfire griddles and iron works
The list could go on. The 7 Camping Kitchen Accessories we have highlighted are the ones we couldn't do without.
If you are looking for a more complex camping kitchen take a look at this video from Todd Parker
Use our contact page to let us know what you think.