Our article on the differences between camping and hiking is, much to our surprise, one of the most popular articles on the whole web site. In this article, I want to turn things around and look at the Similarities in Camping and Hiking.
If you have read many of our articles, you will know the focus of Camping Sage is on Comfortable, Family Camping in Tents. We treat our camp ground and our tent as our base for many activities – hiking being our favorite. We rarely camp for less than 2 nights. Any shorter time doesn't justify the time taken in setting up the tent and unpacking our gear. A more normal camping trip will be anything from 5-10 nights.
Hiking and Camping – Definitions
One of the difficulties in discussing the similarities between camping and hiking is in having working definitions of the two. For us, we use the following definitions.
HIKE: a long walk especially for pleasure or exercise

https://www.merriam-webster.com/dictionary/hiking
Camping is an outdoor activity involving overnight stays away from home with or without a shelter, such as a tent or a recreational vehicle.

https://en.wikipedia.org/wiki/Camping
The controversy starts when we talk of longer, multi-day hikes. For us, we love to return to our campground at the end of the day. Cook a meal on our camping stoves in our camping kitchen. For variety, we may decide to cook over the campfire using camping irons and camping pans.
To eat our meal we will sit in our camping chairs at our camping table. At night, we will sleep on our queen air mattresses with sleeping bags or, more likely, duvets and pillows from home.
Hard core hikers hate our way of camping. They think it's not hiking if it doesn't hurt. If you are going on a multi-day hike, you have to carry everything on your back (hence backpackers).
Of course, there are many different interpretations – particularly of hiking. We know many hardcore hikers who would say it's not a hike unless you carry everything you need on your back. That said, there are thousands of combinations of light weight tents, tarps, sleeping bags, stoves, water bottles, sleeping pads and the like.
Hikers may want the lightest (and often the smallest) possible items but they still need shelter, somewhere cosy to sleep, food, cooking and water.
Camping Sage Typical Camp Set Up
We love hiking. To us it is just one of many activities we might do when we go on a camping vacation.
We value comfort at all times.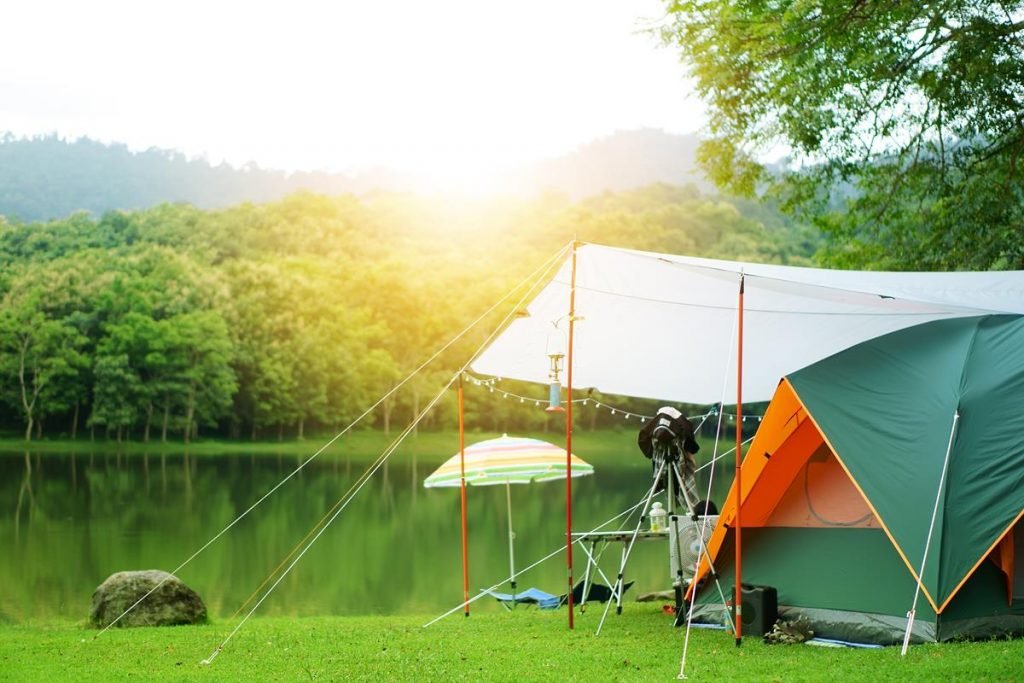 A typical Camping Sage Camp Set Up will include:
Multi room tent – even for the 4 of us we like to take an 8 person or even 10 person tent.
Queen air mattresses – we've tried single pads and mattresses. The comfort from a queen air mattress is a great combination of weight and expediency
Duvets and pillows – we have lots of sleeping bags. Single and double. We still use them but vastly prefer the comfort and ease of a duvet. Proper pillows are so much more comfortable than small camping pillows too.
Camping kitchen with stove, food preparation work surfaces, knives, cutlery and, incredibly useful, a camping fridge
Inverter-generator – need something to power the fridge, phones, tablets, lights… We have dabbled with solar panels but find a small inverter-generator more versatile.
For longer stays we will probably rig up a tarp as a sun/rain shield
I could go on but I am sure you get the picture. Lots of luxury and comfort. The downside is that we can't camp anywhere without a car or truck.
Hiking Camp Typical Set Up
The dedicated hiker would like comfort too. Unfortunately, they sacrifice comfort and ease of use in favor of small size and light weight.
Single person lightweight tent (ultralight enthusiasts will dispense with the tent and use a lightweight tarp as a shelter)
Lightweight sleeping pad (these are often the foam rolls you see hanging from the bottom of a hikers backpack)
Lightweight, high tog sleeping bag. Sleeping bags are incredibly important to the dedicated hiker. They are often their only real protection from night time chills. Finding something really light, that compresses very small, and keeps you as warm as possible, becomes all important
Small, single burner stove. Getting a hot drink and something hot to eat is equally important to the hiker as the camper
Additional lightweight tarp might be used as a wind break
Similarities between Camping and Hiking?
Despite the differences highlighted above, I firmly believe that there are more similarities that there are differences between hiking and camping.
Both are entirely outdoor activities.
Campers go hiking.
Hikers set-up camp for a good night's sleep. As soon as you set up a tent for an overnight stay, you are camping.
For me, it I love a hard hike. We will often manage 15miles of more in a day. It's not that far but with 3 or 4,000 feet elevation change it becomes quite an effort.
It's just that at the end of the day I want to go back to the comfort of my family camp ground.