Comfortable Family Camping in Tents is at the heart of a great camping vacation. These 11 awesome tips are going to make you even more comfortable camping in your family tent.   
Comfortable Family Camping in Tents Gets Even More Comfortable
Family camping, done right, is inherently comfortable.  My days of bivouac or tarp camping are, hopefully, long past.  Making family camping truly comfortable does mean carrying a bit more kit. 
For this article I am assuming your camp site is no more than about 100yards away from where you have to leave your car.
Choice of Tent
Tip 1 – Bigger is Better
Don't skimp on tent size.  Smaller tents are ok for a night or two.  If you are going for any longer, get a bigger tent. 
We are a family of 4.  We use an 8-person tent.  It has 2 bedrooms, a central living area, and a screen room. 
Don't be deceived by the x-person label on tents.  That relates to how many sleeping bags you can fit, side by side, head to tail, and any other way of using the floor area, into the tent.  It is not a good indication of actual tent size. 10-person, 12-person and even larger tents are perfectly good for families and groups from 4 – 8 people.
For family camping you need a tent that is at least rated for 2, and preferably, 4 more people than are in your party. For our money, the bigger the tent the greater the comfort.
The ability to stand up inside the tent, store all your gear, and have somewhere to relax at the end of the day, are all possible in a larger tent.
In the larger tent we can sleep in comfort.  We are not falling over each other.  When the children were younger, they could go to bed and we could stay up for a while in the tent, protected from bugs and mosquitoes, sipping that final, peaceful, glass of wine.
If someone needs to get up at night, it's going to happen no matter how many times you use the rest room before turning in, they are not disturbing everyone else.
A bigger tent doesn't cost a lot more.  For family camping a larger tent adds to your fun.
Tip 2 – Tent Tidy
This may come from my military background but keeping your tent tidy is a major step to improving your comfort.
Most tents have lots of pockets for storing all your bits and pieces.  Use them.
You can get several hanging organizers that are perfect for use in tents.  They collapse flat when not in use so they are easy to add to your camping packing.
Tip 3 – Get your Tent Up Quickly
This tip has got nothing to do with carrying extra kit.  It just comes from years of experience of camping and camping when the weather is not so good.
Get your tent pitched at the earliest possible moment. Make it a rule of your family camping.
When you are family camping, there is a temptation to go off exploring – particularly by the younger members of the party – as soon as you arrive.  Resist the temptation.  Get your tent up as soon as you arrive.  It gives you a focal point.  You can get all your gear inside the tent nice and safe from the elements.
One thing we are seeing that really helps with getting your tent up quickly is the vast improvement in instant tents. In the past we would avoid all instant tents. They were too prone to breaking on set up. Perhaps worse, they would collapse at the slightest sign of wind or rain. Now, instant tents are very much improved and can really help you get your tent up quickly.
If the weather turns bad, it's great to know that you have somewhere ready to sleep, and that your kit is safe and dry.
Gold Tip 1
Pack your car so you can get to the tent first. You need to be able to get your tent out of the car without having to unpack everything else.  Get your tent up quickly and then unpack your gear directly into the tent.
Sleep
Top of our list for comfortable camping is setting up for a good night's sleep.  There are a few things to consider about ensuring you have the chance for a good night's sleep
Tip 4 – Pads/mattresses
Always use a sleeping pad or, preferably, an air mattress when family camping
In our view, there is never a reason for sleeping directly on the ground.  It doesn't matter if you are on an ultralight hiking trek, or a great family vacation.  Sleeping directly on the ground is uncomfortable, cold, and you will wake up aching and feeling bruised.
Couples/adults
There are a great range of sleeping pads and camping mattresses to choose from.  For a couple we recommend an inflatable queen airbed.  Pay a little more and you will get an airbed that will last for years.
They inflate in a couple of minutes with a simple battery powered inflator.  The provide great insulation and are really comfortable to sleep on.  You can also use your own sheets and blankets for a bit of additional comfort and luxury
Children/Singles
For children or singles we recommend a self-inflating sleeping pad.  These use a combination of foam and air to provide insulation and support.  They may not be as comfortable as an airbed but we find the kids love them.
They have the additional advantage that they are exactly what is needed if they want to start some backpacking as they get older
Tip 5 – Bedding
Always go for the most comfortable bedding you can.  There are a range of sleeping bags that can make camping more comfortable.  You can also use your normal bedding from home to be really comfortable.
Sleeping Bags for Couples
For couples we recommend rectangular sleeping bags.  You have much more freedom to roll and move around compared to mummy bags.  For the ultimate flexibility – get sleeping bags that can be zipped together to make a double.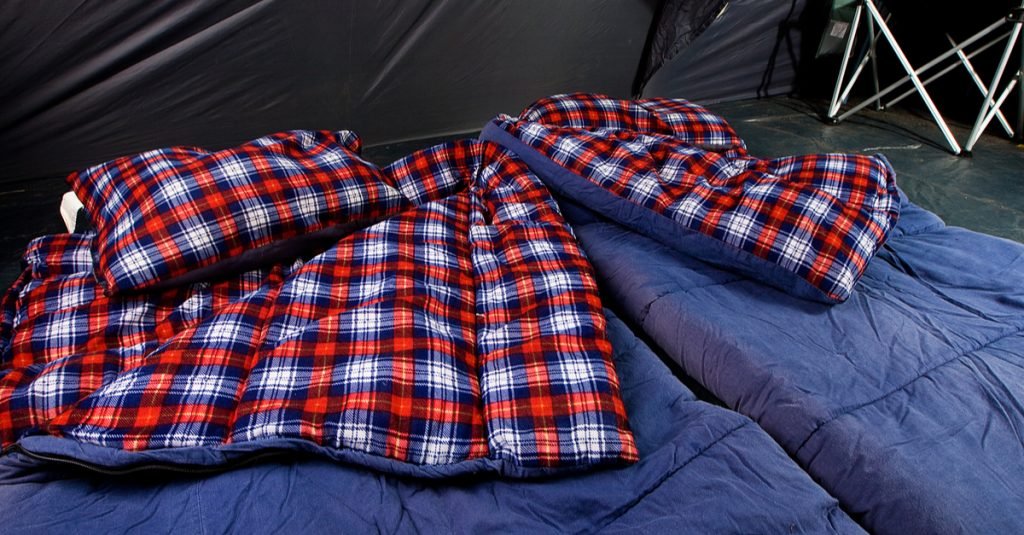 You don't have too much room inside a double sleeping bag, so we don't recommend you use them.  The ability to zip your bags together provides for some brilliant intimacy though.
Make sure you stay warm.  Buy 3-season rated bags.  3-season bags are made to cope with the temperature ranges through spring, summer and fall. 
Sleeping Bags for Children
Children tend to love mummy sleeping bags.  So, give them what they love.  Just as with sleeping pads, they will need mummy sleeping bags if they progress to do some backpacking.
Bedding from Home
Gold Tip 2
Forget sleeping bags altogether.  Bring your normal bedding from home.
Air mattresses are great.  They are warm and comfortable.  Even better, you can use your normal sheets, blankets, comforters and throws from home.  We use a duvet instead of blankets.  It has the advantage that when we get home, we can simply wash the cover and we are good to go again.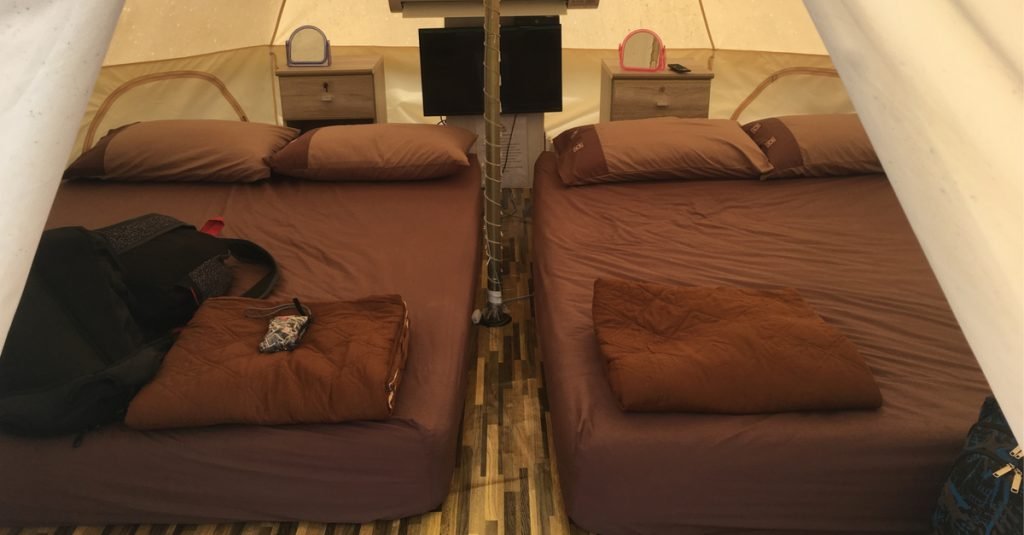 We like duvets so much that we use them all the time at home now.
Pillows
Gold Tip 3
This is another, simple golden tip.  Bring your pillows from home.
Sure, you can improvise pillows, but nothing beats the pillows you are comfortable with at home.
Eye mask/Ear plugs
Tents let in lots of light.  Unless you are happy to get up at the crack of dawn, you might like to use eye masks to help you sleep that bit longer.
Camping gets you much closer to nature than you are probably accustomed.  In the first few nights of your trip, you are likely to hear every nocturnal call of every creature for miles around.  If you are a bit nervous about some of the wildlife, it is very easy to lay awake listening for the next scary noise. 
If this is you, take some ear plugs with you.  They won't stop you hearing the critters' calls, but they can stop them seeming so scary.
Food
Good eating (and drinking) is at the heart of most great camping trips.  We have many articles specifically on camping food and drink.  For now, we are concentrating on what I consider the most important elements to add to your camping comfort – particularly if it is your first camping vacation.
Tip 6 – Plan and Prepare Your First Camping Meals
You can take the pressure off yourself by planning and preparing your first couple of meals at home before setting out.
As much as I love camping in tents, driving to the campsite and getting the tent pitched and setup is a lot of work. 
Depending on your cooler you can bring frozen meals with you.
If you don't trust your cooler to keep stuff frozen (most will be good for a couple of days if you packed in plenty of ice), try choosing foods that don't need to be frozen.  You can prepare and vacuum-pack things like kabobs.  They should be fine without freezing.https://campingsage.com/how-to-get-the-most-from-your-cooler-while-family-camping/
Tip 7 – Invest in a camping kitchen and gas stove
Invest in a camping kitchen and propane/butane gas stove/burners.  Being able to stand to prepare and cook food increases your comfort levels immeasurably.
I know we all have great ideas of cooking over the open campfire.  The truth is, cooking on a campfire can be difficult – particularly when you are just getting started.
Looking around the internet, I see thousands of photographs of people cooking on stoves while sitting or lying on the floor.  It looks romantic.  It's not.  It's hard work, hurts the back, and almost guarantees things will get spilled. Multiply that last thought by for each child under 12 you are camping with.
Make it easy on yourself.  Invest in a camping kitchen and a proper stove. 
Camping kitchens are folding tables with multiple surfaces.  One of the surfaces is designed to take a gas grill and burners.  It will usually have inbuilt wind shields/screens.  When the wind blows it can easily blow out gas burners – shielding from the wind is essential.  The other surfaces are provided for the preparation of food.
Camping kitchens will usually have some canvas storage cupboards with shelves for storing your utensils and tableware.
Being able to stand to cook is a tremendous advantage.  You can move around, reach your ingredients and utensils, prepare food and, maybe most importantly, see what you are doing.
As a bonus, with a 2-burner stove and grill you have a lot of flexibility in what you can cook.  It is not quite a home from home, but, with a little ingenuity, it's astounding what you can produce.
If you go along with this idea – you should also think about using a tarp to create a separate dining area.
Tarps can be an incredibly valuable addition to your camping gear.
A good cooler or cold box is going to keep your food fresh for longer.  Modern coolers will stay cold for at least 2 days.  Sometime in the second day you are going to need to get some fresh ice if you want the box to stay cold.
A better alternative is to get a 12V fridge cooler.  These will plug into your car and will cool to below freezing in less than an hour.  Once cold, they should stay cold for at least 24hours. 
With one of these coolers you can keep your food fresh for the whole of your camping trip.
Gold tip 4 – Separate Cooler For Drinks
If you have the space, take a separate cooler for drinks.  A cold beer is a great way to unwind at the end of a day hiking or kayaking.  One beer is rarely enough.  You are likely to be opening and closing your drinks cooler much more often than for food, so it will tend to warm up more quickly.
A traditional, ice chest cooler is probably going to be good for your drinks
You can keep your food fresh for longer if you keep it in a cooler away from your drinks.
Camp Furniture
Tip 9 – Folding Table and Chairs
Eating standing up is fun once in a while.  It then gets to be hard work.
Equally, you can sit on the ground and balance your meal on your knees.  Quickly gets to be even more like hard work.
Some camping sites include picnic tables on each pitch.  Most don't. 
Gold Tip 4
We recommend you take a folding camping table and some folding camping chairs with you.  You will be surprised how much time you spend sitting at the table.  Not only does it make eating and drinking easier and more comfortable, but you use it for so much more.
If you have a bad back, any camping chair is going to be better than sitting on the floor. There are a great range of camping chairs designed to provide extra back, lumber and neck support.
If you like playing cards or board games, it is so much easier when you have a table in front of you.  If you want to plan your next hike, the table is a great place for gathering around the map. 
If you follow our tip and make sure you have a larger, multi-room tent, you can move your table and chairs inside the screen room at night.  With just the bug screens closed you can enjoy the great outdoors without the irritation of thousands of flying bugs and critters.
Inflatable Loungers
Inflatable loungers are don't really make it onto our comfortable camping check list.  It's just that these things are fun, super easy to use, and fold down really small when not in use.  In fact, they are so small you can easily include them when backpacking or even in an ultra-lightweight trek.
We have a couple of these loungers. My younger son loves them.  They are effortless to inflate in a few seconds and are great as loungers or as sofas.
They are waterproof so they float.  We haven't tried them on water yet – something for a future trip.  My guess is they would be pretty unstable. That would just make them even more fun for our boys.
Tip 10 – LED and Solar Lights
Make sure you have plenty of LED and solar lights with you.
When we first started camping the only way to find our way back to the tent at night was by using a flashlight.  It led to some interesting experiences.  Tents tend to look the same at night.  Our neighbours were not always understanding of another family tripping over their guy ropes as we headed to the wrong tent.
Those days have gone.  There is a huge variety of very cheap, high efficiency LED lighting available.
There's no reason why everyone shouldn't have their own, miniature LED flashlight to carry with them at all times.
Cheap solar lights are great for lighting up the entrance to your tent.  They make it super easy to recognise your own tent.  Stick them in the ground next to your main entrance so they light up your guy lines.  It will make sure you don't trip over them in the dark.
Tip 11 – Invest in Roof Cargo Box.
We don't have a big car.  Some of the things we carry are bulky.  We rapidly overfilled the car.
For our second camping trip we had bought a cargo box.  It's great for big, bulky items like tents, sleeping bags, folding chairs and hundreds of other items.
It makes the car so much more comfortable if your camping vacation includes any long road trips.
Nowadays, we keep the bulk of our camping gear in the cargo box all the time.  We just lift it off the car when we get home.  It sits at the back of the garage.  When we get ready to go on our next trip, we just lift the box back onto the car.  It tales 2 people to lift it off and on but it saves a ton of time when packing for camping.
Conclusions
That's it.  Our top 11 tips for comfortable camping.  Use our contact page to let us know how they work for you.
Our 4 gold tips might surprise you.  Two concern sleeping comfortably.  What is your gold tip?