Some campers think that a guide to portable power while camping is a bit of a sell out. After all, part of the joy of going camping is to get away from our electronic gadgets. In our modern society, there are times a phone or tablet can come handy—emergency contact, taking pictures, a flashlight–these are a few uses that come to mind.  
Even if you're roughing it, there are times you need a source of power.  How do you bring electricity with you when you're camping?  Since there are different options, the problem is choosing the ones best for you.
When choosing the best portable power for camping, you should first know how much power your devices need and how many times they need to be recharged. You can then base your choice on that.
This guide will help you navigate through the different types of portable power, their strengths and limitations, and which ones are the best for the type of camping adventure you're planning.
If you plan on camping for a longer period you are probably going to need to charge your power pack too. A small, camping generator can be a great addition to your camping packing. Depending on where you are camping you might even be able to hookup to the campground power outlets.
Don't worry, having electricity in your tent is perfectly safe.
How to Choose the Best Portable Power Pack for Camping
There are a variety of portable power devices out there that deliver anywhere from less than 2,000 mAh of power to more than 20,000 mAh.
What are the things that you should consider when deciding on a portable power product? First, you should be clear on the type and number of devices you want to charge and connect. This will give you an idea of what power output you will need. For instance, if you only need to power some lights and charge one smartphone, you can probably get away with a portable power of around 10,000 milli-amp hours.
An iPhone 11 has a 3,110 mAh battery. With this capacity, it means that you can fully charge it thrice when you use a 10,000 mAh power bank.
Realistically, however, you should only assume that your power bank will only have about two-thirds of the rated power output. In this case, you can safely completely charge your iPhone 11 twice.
Camping Devices: Summing It Up
Before deciding on your portable power solution you need to know just how much power you are going to need. As you can see from the iPhone example above – a single powerpack may not provide you with all the juice you need.
To make sure that you have enough juice for your devices, you should be clear on the following details:
How many devices you need to charge or power
Battery capacity of each device
How often you're going to charge these devices or how long you're going to use them.
How many people are going to use portable power.
Another thing you should figure out is how long you will have no access to a wall charger. Once used, power banks will still need to be charged.
What Type of Camping Are You Going to Do?
We focus on family camping in tents. However, there are different ways to go camping:
Family camping in tents
RV
Fifth Wheel Campers
Camper trailers
Backpacking/Ultralight
The way in which you want to go camping will influence the kind of portable power that you can bring with you.
For instance, if you're backpacking over long distances, you will probably want to choose a portable power product that is lightweight and something that you can easily put inside your backpack.
You don't want to be lugging around a heavy power bank as you walk across miles and miles of grueling terrain. Backpacking also means that you won't have too many devices to charge because you need to pack light. A smaller capacity power source may be sufficient.
For RVers, charging your devices is rarely an issue. Your RV is going to have multiple power sources available – Batteries to provide DC or inverter power when off grid, AC power when plugged into an electrical hookup.
This site is all about comfortable family camping in tents. That generally means we pack all of our gear into our cars (sometimes known as car camping). We quickly find that we need to be expert in using the last morsel of spare space in our cars to fit all of our camping gear.
The general rule of thumb: if you're going to have to carry the portable power source, then go for the lightweight ones.
Characteristics That You Should Look for When Buying Portable Power
When you have answered all the considerations mentioned above, you will have narrowed down your list of portable power products to choose from. But, you will still have dozens, if not hundreds, of options to consider.
You can use these criteria to further trim down your choices.
Size and Weight
There are times when you need a device with more power, and this means that it's going to be bigger than most others. Other times, however, you just need something that you can pop into your backpack and forget about it as you hike up trails going to a particular campsite.
To give you an idea, here are some common personal electronics and their battery capacity, in mAh:
GPS devices: 2,000 to 2,400
Cell phones: 850
Smartphones: 1,000 to 2,100
Tablets: 1,250 to 4,440
Laptops: 3,500 to 6,600
That means that you will want to choose a portable power source that has a rated power output that's higher than the battery capacity you have.  For instance, if you want to charge two smartphones and your laptop during your camping trip, with a combined battery capacity of 10,800 mAh, then you should get a power bank with a power output that exceeds that.
If you're staying longer and you anticipate that you will need to charge your devices thrice during the trip, then you need something that can deliver up to 32,400 mAh or more. Either that or you bring two to three portable power devices.
More power doesn't always mean better. Some of the heavy-duty portable power devices can be like bricks: they are heavy and bulky. Figure out just how much power you're going to need on your camping trip and save yourself from bad backs and heavy backpacks.
Made for the Outdoors
There are several reasons why you should buy portable power devices for camping. For one, these products are made for travel: they are more durable than the power banks you have at home. There are also portable power devices that are made specifically for outdoor activities and camping.
Solar Chargers: Why They Are Perfect for Your Camping Trip
Most of the criteria listed above allow you to choose a device according to your preference, such as whether you need the device to be able to jump start your car, what power capacity you want, or if it's suited for the type of camping you want to do.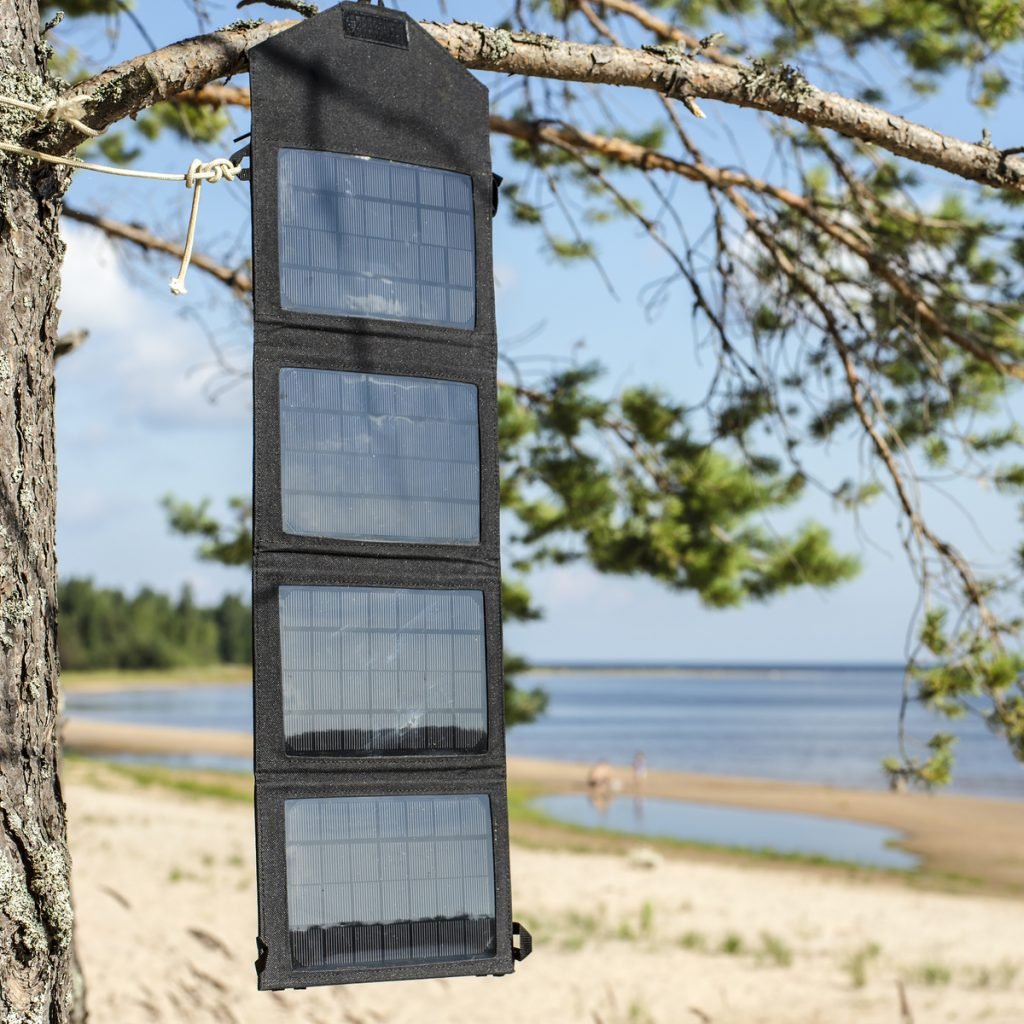 However, when it comes to how the device is powered, you might want to seriously consider going for solar chargers. Just think about it: you're in the middle of your camping trip, and you're waiting for your phone to complete charging when you realize that the portable power you brought has run out of juice.
You're out of luck unless you're in an RV park and other areas that have power lines that you can tap into. However, with solar chargers, you can just put it under the heat of the sun, and it starts charging again. You basically have an unlimited power source inside your backpack.
While it is generally smaller than power banks, USB solar chargers are perfect for those extended camping trips or if you are going somewhere with unreliable power sources. It's also a good buy if you have an emergency preparedness kit.
Choosing the Perfect Solar Charger for You
Buying the best solar charger will force you to decide on the perfect balance between size and power output. Understandably, portable solar chargers with a big surface area will catch more of the sun's rays and might come in handy when it's cloudy. However, you might find it less portable and difficult to fit into your camping gear.
When it comes to solar chargers, the number of panels will be a consideration as well. The more solar panels there are, the better. It should also be lightweight.
Solar Chargers: Other Things You Should Consider
There are several brands of solar chargers available, and sometimes you will find yourself having to choose from two or three products that have the same size, weight, and power output. How do you break the tie?
Number of ports available: You really don't want to take turns charging two dead smartphones
Reliability and durability: You would want a solar charger that will work when you need it. Imagine having to rely on a GPS device, and it runs out of battery and your solar charger won't work.
Other stuff: Chargers that come packaged with add-ons and extras should be a good deciding factor if you are choosing between two equally excellent portable power products. Some extras that you can expect are carabiners, kickstands, magnetic closure, or longer cables.
Some Products That Can Help You Decide
Sometimes, you can learn about what to look for in something if you have an idea of what existing products can do. And here are some of the best solar chargers that you can use for that.
BigBlue 28W USB Solar Charger is one of the best out there because it can harness the power of the sun to allow you to charge three devices simultaneously. What's more, it's built for the outdoors with its weather-resistant outer fabric. It's very lightweight at a little more than a pound.
You get a lot of surface area when you unfold it to reveal four solar panels. When you're done charging, it folds up into a brick measuring 11 by 6.3 inches.
Another product, the X-Dragon 20W SunPower Solar Charger, has basically the same size and output as the BigBlue 28W. However, it has only two ports, and charging two devices at once will slow down the process. It does come with a zip-up mesh pocket that helps protect the charger from the elements.
Solar Chargers with Built-in Battery
While both the BigBlue and the X-Dragon are straight-up solar chargers, – they charge your devices directly – there are also those that have an integrated battery. This way, you can charge the batteries on a very sunny day and then use the battery to charge your devices later on.
If that sounds like your ordinary power bank, it's because it is. The only difference is that instead of plugging it in, you put it under the sun. Products like the BLAVOR Solar Charger Power Bank can give you 20,000 mAh of power so that you can charge four of your devices all at the same time.
It has an IPx5 waterproof rating, a built-in compass, emergency light and flashlight mode, and a wireless Qi charging feature.
Do Solar Chargers Work?
With no need for outlets, solar chargers are perfect for keeping your devices powered when you're outdoors. But do they really work?
If you are interested in the history of batteries, then this article in Battery Universe is worth a read. Most solar chargers will have silicon panels that, at room temperature, can produce about 0.60 volts of power each. However, its production efficiency is reduced as temperatures go up.
Another component in solar chargers is the charge controller, which converts the voltage so that your devices are not damaged when charging.
Alternatives to Solar Chargers
Solar chargers just make sense if you want to ensure that your devices are juiced up when you're outdoors. Even without power outlets, you can still charge your devices using an all too abundant source: sunlight.
However, it is worth noting that there are a couple of negatives when using solar chargers. For one, USB rechargeable power banks have more capacity. You can keep your devices charged for days on end.
With a similar solar charger, you will need to keep it under the midday sun for a few hours. And if the skies are overcast, then you'd probably need to keep it under the sun longer.
On top of that, the Federal Aviation Authority does have some limits on the battery capacity and number of solar chargers that you can take on the plane with you because it can cause a fire. 
The good news is that there are alternatives that you can use when camping. But before we get into these options, here are the pros and cons of solar chargers:
Pros
A good power source for those who are staying in one place for the entire camping trip
Portable, lightweight, and small in size
Perfect for small electronics
Cons
Might not be suitable if you are going to hike more than stay in one place because solar chargers need to sit all day to charge your devices
Needs an area with a steady stream of sunlight
Dependent on the weather
Rechargeable Power Supply
The best example of a rechargeable power supply is the power bank that you have for your phones. These devices need to be charged themselves so that you can replenish your phone's battery juice.
Power banks like the Aukey 30,000 mAh allow you to charge your devices quickly. You can charge two to three smartphones simultaneously. You can also use it to power Bluetooth speakers, flashlights, and other smaller electronics.
This huge-capacity power bank weighs around 1.3 pounds. When it comes to power banks, you need to consider the number of inputs that are available. You should also consider the added features, such as protection against overcharging and overheating.
Pros
You can conveniently charge small electronics and a variety of other devices when you need to
Quiet
Can charge two or more devices simultaneously
Serves as a battery backup
Cons
Suitable for small devices only
Battery Power Packs
These devices use dry cells and are some of the lightest and smallest portable power sources. An example is the Anker Astro E1. This battery pack can charge your iPhone 8 to full capacity twice before needing to be recharged. It's very compact, measuring only 3.8 by 1.7 by 0.9 inches and weighing only 4.4 ounces.
With its small size and the fact that it's as close to weightless as you can get, this is perfect for quick backpacking trips.
Pros
Can fit easily inside your backpack
Perfect for short camping trips
Quiet
Cons
Charges smaller devices such as smartphones and small electric stoves
Won't have enough charge for long camping trips
Generators
Generators are the ones that can power larger appliances such as a refrigerator or even air conditioning units for when you go camping. We have covered the use of inverter generators for camping in more detail elsewhere. Please follow the link to see more.
Before inverter generators, fuel-powered generators worked best for those who are going RV camping. Older generators were heavy and noisy. Not a great mix when you are camping in a tent and need to get all your camping gear in your car.
One full tank of fuel can get the generator running for six to eight hours.
Something like the Honda EU3000iS can be very expensive at more than $2,000, but it can power microwaves, blenders, TVs, air conditioners, and other appliances.
This is an excellent power source for luxury camping trips where you want a change of scenery but still be comfortable and have access to the finer things in life.
As we say in, https://campingsage.com/can-i-use-a-generator-when-tent-camping/, for most camping trips, smaller, less expensive generators hit the sweet spot for quietness, efficiency and power supply.
| | | | | |
| --- | --- | --- | --- | --- |
|   | Pulsar PG2300iS | WEN 56225i | Rainier R2200i | Generac 7117 GP2200i |
| Power (Peak/Running(W)) | 2300/1800 | 2250/1800 | 2200/1800 | 2200/1700 |
| Weight (pounds) | 48 | 48.5 | 44 | 46 |
| Size (inches) | 19.7×11.2×17.9 | 19×11.5×18.2 | 20×12.5×18 | 19x11x17 |
| Noise (dB) * | 59 | 53 | 52 | 60 |
Aside from fuel economy and inverter efficiency, other characteristics you should be looking for in a generator include:
The type of fuel needed: You can use liquid propane, gasoline, or diesel.
Noise level: Some campgrounds will not allow you to use a noisy generator because it will disturb other campers in the area. Get a generator with a noise level of 50 to 70 decibels.
Pros
Perfect for long camping trips
Great for dispersed camping
Can power everything from small devices to large appliances
Cons
Definitely not for backpacking adventures
Why You Need Portable Power When You Go Camping
Unplugging from technology can be really difficult. According to Forbes one in every three Americans were constantly connected to their social media accounts, the Internet, or e-mail in 2016.
Sure, you'd say that, but a majority of people did log off at least once during the year. However, out of people who make a conscious effort to leave their phones or tablets unattended, 45 percent do it once or more times a week. Only 16 percent unplugged every day, and 10 percent went off the grid once a week.
People are glued to their smartphones and tablets. They watch TV shows, read work e-mails, respond to text messages, play video games, or do other important stuff on these little screens.
On the other hand, Americans have fallen in love with camping. In 2018 Condor Ferries published camping statistics that showed that:
6 million households have started camping since 2014
28 million people went camping in 2018
Millennials comprise 56 percent of all campers
Portable power makes it possible for happy campers to be even happier. They no longer have to worry about losing contact with friends, colleagues, and family back home while they enjoy being outdoors. If you are one of those people who have avoided camping because you can't be away from your phone, then portable power allows you to take your mobile devices on your next outdoorsy trip.
So if you're a busy boss or employee, getting portable powers means that you can take the kids camping while still being within reach. You can finally sneak in a quick e-mail check or continue working on that presentation in between ghost stories by the campfire or while taking a break from dips in the lake.
Portable Power Gives You Better Experiences
For most people, especially first-timers, camping will take them to new places and experience new things. Portable power can help ensure that there is always battery juice for cameras, smartphones, and other devices.
Take lots of photos of every place and photos of everyone. Or be more comfortable even when you're outdoors. With portable power, camping no longer means sweating through an uncharacteristically hot night or getting eaten alive by mosquitos. You can stay in air-conditioned tents, have a nice cold beer, or even read books under a bright lamplight.
Safety
One of the biggest benefits of having portable power is that you always have enough to power that GPS device to show you where you need to go. Or perhaps make an emergency phone call. Other portable power products even allow you to jumpstart your car's battery.
You can even find mobile apps that give you tips on how to have a safer and easier time camping. These apps can teach you how to properly hang a hammock. There are apps that can help you with navigation, and one that provides location signaling features. Of course, weather apps can tell you if there is a looming storm. All of these apps will be useless if your phone is dead.
Have More Fun with the Perfect Portable Power for Camping
There is no good reason to miss out on a camping trip with friends and family. If you feel like you need to be tethered to your phone, or if you have pressing work that you need to do on your laptop, you can juice them up with portable power.
Now that you know what details are important to help you choose the best portable power product for your camping needs, it should be easier for you to choose.  Solar chargers are ideal because you do not have to rely on a power outlet to be able to charge your electronics. However, because of its limitations, other types of portable power sources are worth considering. As a general rule:
Generators are perfect for larger devices and appliances that require more power.
Rechargeable power banks are perfect if you have access to a power outlet.
Battery packs are perfect for backpackers on a short adventure.
Guide to Portable Power While Camping – Conclusion
This has been quite a long guide to portable power while camping. Nowadays, we tend to use our camping generator for most power requirements. The power we need for keeping our camping coolers cold and either using a tent fan to cool the tent or a heater to keep it warm (depending on time of year) is much less than is need to charge the whole families electronic devices.
Our philosophy is that the owners of the devices are responsible for bringing the power adapters and/or portable power packs with them. It is surprising how often it gets forgotten.