Most family camping tents include waterproof tub floors and rain flies so it's fair to ask, "Do I need a Tarp When Tent Camping". The short answer is no, you don't need a tarp. The longer, and better answer is that a tarp is one of the most useful bits of kit you can take on your family tent camping trip.
We have lost track of the numbers of times a tarp has got us out of trouble or improved our comfort levels.
If you like exploring, going off the beaten track and exploring new terrain then you can't be 100 percent sure what mother nature will throw your way. At least one tarp should be on your camping checklist.
Here's just a few of the ways a tarp is invaluable:
Additional foot print if your tent floor is torn
Replacement or additional rain fly
Wind break
Makeshift tent or shelter (it happens – we know a family that forgot to take the poles for their tent. A tarp provided shelter over the first night)
Privacy wall
Tent Awning
Insulation when the nights are particularly cold
Are you convinced on the value of a tarp yet?
How Do I Use A Tarp With A Tent?
Maybe you always thought tarps were a little extra and were only for serious backpackers. If you're new to using tarps, you might be wondering "how do I use a tarp with a tent?" The good news is that tarps are versatile and easy to transport. There are plenty of ways to get the most out of a tarp during a camping trip. Check out a few of them below.
Protect Your Tent From Precipitation, Wind And Sun.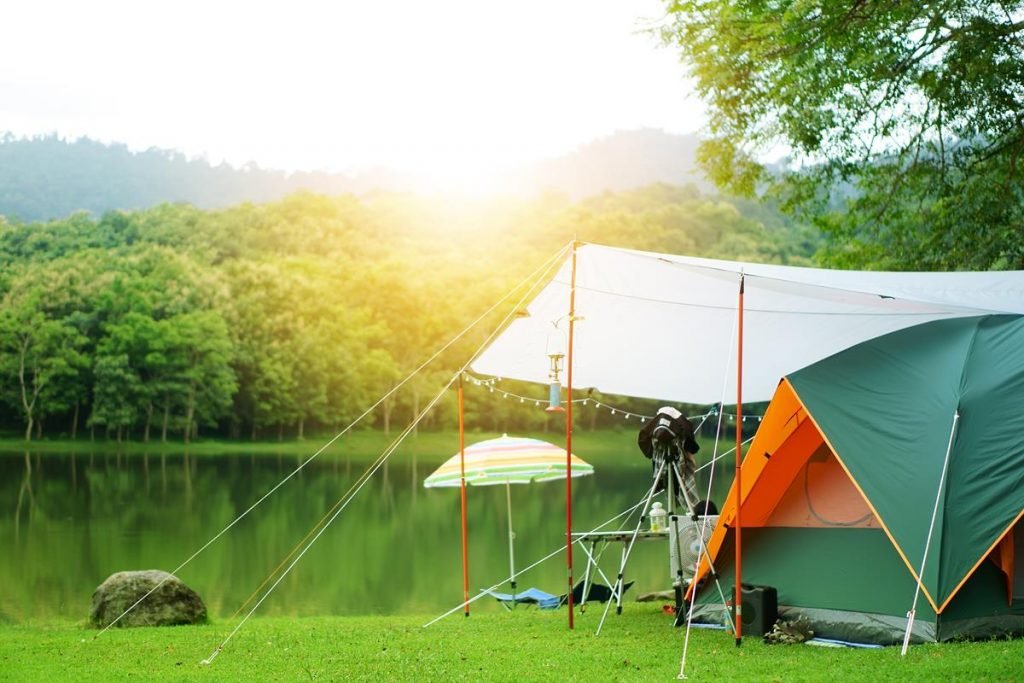 While your tent is your primary source of protection, sometimes it doesn't hurt to be extra careful. Unfortunately, tents aren't usually built for very heavy rains and snowstorms, like those you might experience in the spring and winter months.
Tarps are also strong enough to block the weight of heavy winds and harmful UV rays from the sun.
Use For A Dining Area
Tarps can also be used beside your tent to create a makeshift dining area or kitchen. This is especially useful if you're camping with a group since everyone needs have a comfortable commonplace to meet.
Pet Protection
If you've ever taken your dog camping, you probably know they have no problem relaxing out in the open. However, they also need protection from harsh weather conditions.
A tarp is an easy and inexpensive way to to give your dog shelter if he or she isn't tent trained.
Cover For Your Fire Or Woodpile
A fire is an essential part of a camping trip. However, it can be difficult to maintain in damp and wet weather. Covering it with a tarp will ensure that you have the driest conditions that will make the wood easy to kindle and the fire less likely to go out.
Create A Makeshift Outhouse.
One of the most difficult aspects of camping would be the lack of facilities. The further off the grid you trek, the more primitive life becomes.
Simply hanging a tarp between a couple of trees in a designated "bathroom" area can add a sense of modernity.
Just make sure your follow all the rules for siting latrines if you are making a full outhouse.
Cover Your Gear.
A tarp can be used to cover any additional camping gear that would take up too much space in the tent. Such items include chairs, grills, coolers and hammocks.
Cover For Your Generator
If you are thinking of taking a generator on your camping trip – and it can be a great boost to your overall enjoyment – keeping it under a small tarp can be a great idea. You are not risking killing yourself by having the generator in or near the tent, but you are able to protect it from any poor weather.
Makeshift Tent Footprint/Groundsheet.
Most modern, family tents do not need a separate groundsheet.  If the ground is very wet or very cold, a tarp makes a great, makeshift groundsheet.  As you have seen, we think there are many other good uses of Tarps too.
Similar to footprints, tarps can protect your tent's bottom surface from damage that can occur with prolonged use. If you plan to keep your tent for a while, then a tarp can be a great foundational layer.
How Do You Set A Tarp Over A Tent For Rain?
One of my most memorable camping trips was last year in the Blue Ridge Mountains. While the view was picturesque and the temperatures were favorable, we experienced flooding.
Our rain fly wasn't exactly what I'd hoped for. Since then, carrying along a winter tarp to every campsite has been the difference between ending a trip early and enjoying the stay.
You may be wondering "how do you set a tarp over a tent for rain," especially if you're new to this. It's not a difficult task as long as you have the right tools, which include the following:
tarp (preferably twice the size up your tent)
paracord or bankline
at least two trees for reinforcement
Steps For Setting Up A Tarp Over Your Tent
With a little ingenuity, you can almost always setup your tarp over your tent.  Just remember, paracord is your friend.
Pull either paracord or bankline through one of the grommets and tie. One tip is to use a grommet saver, which will help prevent the grommets from tearing.
Use a strong tree, and use a fishing pole or long stick to reach about 12 feet and wrap the cord or line around the tree.
Slowly wind the cord around the tree in a downward motion.
Repeat on the opposite side.
Make sure that one end of the tarp is higher than the other so that water flows down instead of settling on a flat surface.
If you're more of a visual learner – just take a look at the video below for an example
Can I Use A Tarp As A Tent Footprint?
A tent footprint is any type of material used underneath the tent mainly as protection. Some campers buy items specifically marketed as footprints.
However, they can be made out of anything. So, the answer to the question (Can I use a tarp as a tent footprint?) is yes. Any material that can withstand various types of grounds, from rocky and bumpy to sandy or grassy, will make a great footprint.
Tarps are usually made of a type of strong, water-resistant material, so they're great for this purpose. Many tarps are made of polyethylene, which is known to be quit durable. It's the most common type of plastic because of its ability to withstand heat and water.
Other common tarp materials include vinyl and polyester for durability.
Just be sure that your footprint dimensions are smaller than the tent's dimensions. If the footprint is longer or wider than the tent itself, and rain that falls will run down the side of the tent and will gather in the tarp.  Waking up in the morning to find the inside of your tent awash with water is no fun.
What Size Tarp For Camping?
In our experience, a tarp can be too small but it is rarely too large.  Larger tarps are so much more versatile.  With modern materials, a tarp won't be too heavy or bulky either.
When it comes to covering your tent, what size tarp for camping depends on the size and dimensions of your tent. In general, a tarp should be large enough to cover the entire tent and a few feet of space surrounding it. Therefore, a tarp that's about twice the size of your tent is ideal.
For instance, if you're camping with a two-person tent that's 7 feet by 4 feet, your tarp should be 14 feet by 8 feet or larger.
On the other hand, if you're using your tarp as a footprint, it should be smaller than the tent's dimensions. Unless you are going to take a tarp specifically as a footprint we still recommend taking a larger tarp.  Just fold it to your tent's size.
In other situations, it really depends on the number of people using the area. For example, your dining area might be used to accompany five or more campers, so you might choose a larger size tarp.
Smaller spaces, such as makeshift bathrooms and dog areas would require much less tarp.
Conclusion
A good tarp is one of the most versatile bits of kit you can take on your family camping trip.  It will protect you from rain and wind.  It will work well as a canopy to protect your from the sun.
If it's a little cold, a tarp can help insulate your tent to keep you that bit warmer and more comfortable.
Tarps can work great to divide your campsite giving more privacy or perhaps working to create an ambiance in your kitchen or dining area. Furthermore, a tarp can add years to your tent life by protecting it from wear and tear.
We are sure you will find plenty of other uses that may or may not apply to your camping needs. No matter how you plan to use it, just be sure to take it along with you to make your camping trip as smooth and easy as possible.
You will have noticed we don't discuss tarps instead of tents. If this is what interests you go take a look at https://www.hyperlitemountaingear.com/blogs/ultralight/essential-tarp-camping