Life with kids can get overwhelming–the daily routine, the afterschool events, the daily bickering and complaining about homework or chores can get to be too much. 
Camping is a great way to escape the stress of modern life.  But if you've never camped before, it can seem daunting.   The good news? It's actually easy to get started. .
In the Ultimate Guide to Camping With Kids we are going to help you plan every aspect of your fantastic camping break. We'll cover:
Planning Where to Go
Clothing to Bring
Food and Drink to Pack
Gear to Consider and Pack
Toys and Games to Bring
Setting Up the Campsite
Ways to Keep Kids Safe
Camping Activities for Kids
Taking Care of Babies While Camping
We've compiled everything you need to know about camping with kids. You'll have plans in place, bring all the things you need, and keep everyone – from the babies to the kids to the teenagers to the parents – a happy camper. Once you know how to get started, you can go anywhere!
Planning and Preparing for Camping with Kids
When it comes to camping with kids, planning and preparation can make or break a camping trip. Thankfully, planning and preparing for camping with kids isn't a difficult process – especially once you know what to look for, how to prepare, and what to pack.
Decide What Kind of Campsite You Want
A lot of campers choose to head out to their destination and then choose a campsite. That may work for them, but when it comes to camping with kids, it's best to decide what kind of campsite you want and plan ahead.
The type of campsite you want and book will determine what you need to bring. After all, every campsite is not created equal.
Some campsites have amenities like water pumps, bathrooms, showers, and electricity hookups. Some campsites only have water pumps and outhouses. Some don't even have any of the above.
Additionally, campsites can vary in what lodging they can accommodate. Do you plan on camping in tents? You'll need a campsite with a tent spot for each tent. Do you have a camper or RV? You'll want to make sure you choose a campsite with ample parking.
Many campgrounds that take reservations have websites where you can typically check out the layout of the campground, see where the campsites are located, and narrow down just what each campsite offers.  That way you can choose the best one for your family.
Are you worried about a campsite being kid-friendly? There's a simple solution. You can typically call the campground directly to see if there are any campsites the hosts deem kid-friendly.
Pro Tip:    Consider looking for a campground close to town if possible. That way, if you forget anything, a trip to the store won't take up half of your day. Additionally, at the end of a busy day, you might want to head into town for a pizza (or bring it back to the campsite).
Plan and Reserve Early
Most campgrounds fill their spots very quickly for spring and summer. This is especially true for campsites in state and national parks. If you want to camp in the high season it's essential to plan and reserve a campsite early!
Many camping spots have their own websites, but you'll be able to find many camping areas at Reserve America.  You can search by city, state, name of facility, or zip code.  If you don't want to go too far away, type in your zip code and you might discover places close by you didn't know about.
Clothing to Bring
Clothing is an essential part of a camping trip, especially when camping with kids. Each member of the family needs to have items of clothing for hanging out at the campsite, for when it gets chilly, and for any activities that you plan on doing.
Layers are especially important when camping. It can be hot during the day, but relaxed during the morning and even cooler at night. This is especially true for areas at higher elevations.
Every member of the family will need to pack layers of clothing and clothing for all kinds of weather. After all, you may be camping during a time of year where you can swim during the day – but no matter what, it's going to cool off (a lot) at night.
In the article "Camping Packing List for Kids," USA Today recommends packing the following items:
Undergarments for every day
Tall socks
Close-toed shoes
Top and bottom base-layers
Pants or shorts and T-shirts for the daytime
Sweatpants and sweatshirts for nighttime
Light jackets and coats for nighttime
Lightweight hat or visor
Rainwear
If you and the family plan on doing any activities like hiking or swimming during the camping trip, you'll want to consider bringing specific clothing items for those activities like:
Bathing suits
Close-toed water shoes or sandals with straps
Swim cover-ups
Swim towels
Hiking boots
Moisture-wicking T-shirts, shorts, and pants
Moisture-wicking hiking socks
Keeping your destination in mind is essential when packing for camping. After all, the clothes you might bring for camping in Florida probably differ a bit from clothes you might bring for camping in Montana.
Food, Drinks and Cooking Gear to Pack
Another one of the most significant aspects of a camping trip with the kids is something just about everyone loves – food and drinks!
Every family's food preferences will be different, so you'll need to take these tips with a grain of salt. After a few camping trips with the kids, you'll likely have it down to a science.
We have a couple of articles that may help:
Plan Meals
When it comes to camping with the kids, planning your meals will be your best friend. You should plan three meals a day for each day you plan on camping – except for your arrival and departing day.
Try to keep the kids involved when planning meals. Let them choose one meal during the camping trip or choose a special treat to buy. It'll help them feel included, and it'll allow both parents not to have to worry about planning every single meal.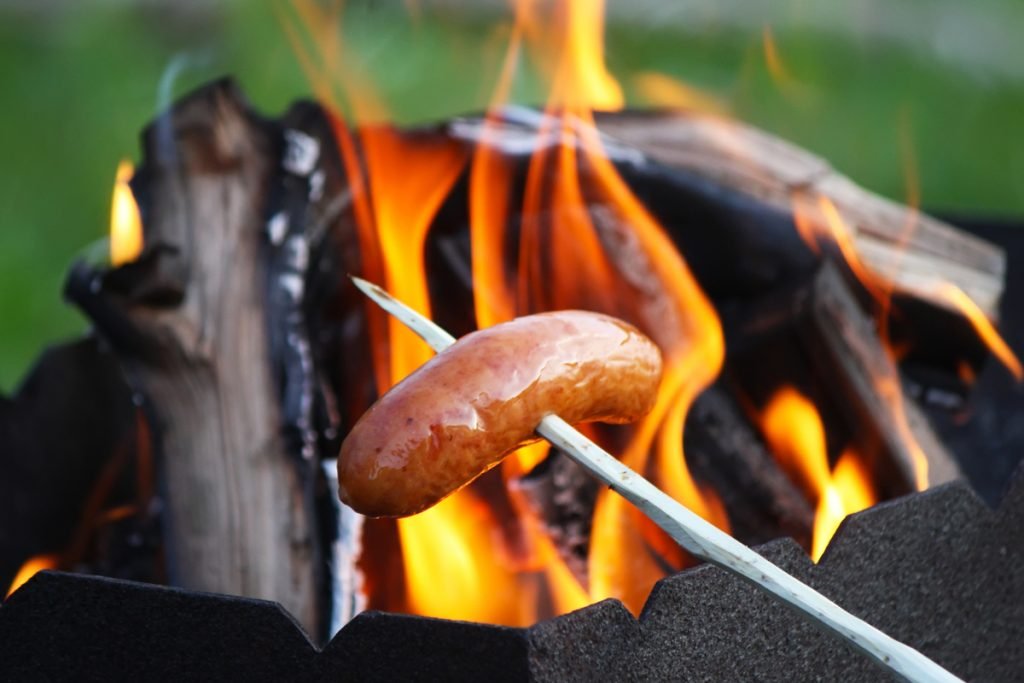 Easy Meals for Camping with Kids
You'll most likely be camping in an area where you can't use the fridge, the microwave, the stove, or the crockpot. The good news is, there are plenty of easy meals to make when camping that don't need any of the traditional cooking appliances.
Tin Foil Dinners
Tin Foil dinners are like the TV dinners of camping, but even better.
For these meals, you'll include meat, potatoes, vegetables, and any other foods you see fit and pack them into tinfoil. Once you're ready to eat them, just pop them on the coals of the campfire, wait till they're cooked, and voila!
Just about any combination of these foods will work, but a quick Google search can come up with a ton of tin foil dinner recipes.
Skillets
I have got to admit, I don't really know the difference between a frying pan and a skillet.
I looked up a definition on 'The Difference Between' It says:
A frying pan is a flat-bottomed pan which is used for frying and searing food while a skillet is also a flat-bottomed pan which is used for sautéing, grilling, stewing, and roasting aside from being used for deep and shallow frying

the difference between
In truth, the definition doesn't help me much either. For me, the big thing about a frying pan is its versatility. Like tinfoil dinners, any combination of ingredients works. Simply prep your meat, vegetables, and other ingredients at home, store them in zip bags, and get them out when you're ready to cook them up!
Skillets are also suitable for breakfast. Whip up a skillet of breakfast burrito ingredients, scoop the ingredients into a tortilla, add some condiments, and you've got an easy breakfast for the whole family.
Of stick to the tried and trusted eggs and bacon.
Skewers and Kebabs
Pre-making skewers and kebabs at home before the camping trip makes for simple meals. Not only are they easy to cook, but they're fun to cook – and the kids can get involved, too.
Cooking during camping is such a hands-on experience and can be an activity with the kids in itself. Let the kids roast their own skewers and kebabs for a fast, fun, and easy meal.
Bring Non-Perishables
While you'll surely have a cooler or two full of your perishable foods while camping, it's smart to bring non-perishables too.
You probably already know your kids are going to want snacks while on the camping trip. Of course, you can bring some perishable snacks, but bringing a variety of non-perishable snacks makes everything easier.
Non-perishable food items to bring camping with kids are:
Salt, pepper and other seasonings
Condiments
Oatmeal
Dried fruit
Nuts
Trail mix
Granola bars and protein bars
Fruit pouches
Fruit snacks
Crackers
Chips
Pancake mix
Dry lentils and beans
Evaporated milk
Bread
Butter
Cooking oil
Bring Water and Other Drinks
Even if your campsite has a water pump, it's smart to bring water camping. You can opt to bring large gallon or two-gallon jugs and fill up reusable water bottles (which is the most eco-friendly and lightweight option), or you can bring cases of bottled water.
Either way, make sure to bring plenty of water. Not only will you need to drink it, but you'll also need to use it for things like cooking, brushing your teeth, and washing.
If you or your kids don't want to drink plain water the entire trip, an easy (and inexpensive) way to switch up your water is to bring powder drink mix packets like Crystal Light.  
If you have babies and toddlers, you'll want to make sure to bring any formula, milk, or juice they need. Evaporated or condensed milk is a great option to bring camping, as is evaporated or condensed juice like juice cans and powder mixes.
Cooking Gear to Pack
Planning and getting food is only half the battle of having meals for camping with the kids. You need your cooking gear, too!
The kitchen and cooking gear to pack on your trip will depend on the meals you want to cook. However, consider following the basics, like:
Propane for stove (if necessary)
Pots
Pans
Skillet
A few sharp knives
Cutting board
Measuring cups
Tongs
Serving spoons
Spatula
Utensils, plates, bowls, cups (paper, plastic or reusable)
Hot pads
Aluminum foil
Marshmallow / hot dog roasting sticks
You may want to bring additional items like:
Tablecloth / table cover
Napkins
Paper towels
Plastic bags
Tupperware containers
Gear to Consider and Pack
You've decided where to go, you know all the clothing you need to bring, you know just what food you're going to cook. Now, what else do you need to bring?
Your camping gear, of course!
Below is a list of camping gear to consider bringing on your family camping trip and considerations for that type of equipment. The links in the table below lead to other articles from this site that provide more detailed information.
Gear
Considerations
Tent or another shelter
Make sure it's big enough. 4 people will be comfortable in 6-8-person tent
6 people will need a 8-10 person tent
Note: an xx-person tent will hold xx sleeping bags lying next to each other. It doesn't provide a good indicator of the space you need to be comfortable while camping. As a rule of thumb, look for a tent rated for 2-4 people more that there are in you party.
Bedding
Make sure sleeping bags are rated for the weather where you plan on camping
Bring pillows
Consider bringing air mattresses or foam pads to lay-on
Bring a few extra blankets
Camp Chairs
Make sure to get some kid-sized camping chairs
Firestarter
Can be lighters, or matches
Can bring campfire fuel if needed
Firewood
Can be found at your campsite
Often purchased from the campground host
Note: Never take firewood with you (why would you?). It can contain bugs and pests that are dangerous to the local woodlands
Lights
Lanterns, flashlights, headlights, and/or string lights for the campsite
Bug Repellent
Mosquito, fly and insect spray/repellent
Hand Tools
All-in-one tool like a Leatherman
A small ax for cutting wood
Hammer
Kids Items to Pack
Let's face it: when it comes to kids, there are always extra things that need to be packed – even if you're just heading out to run errands. When you're heading out for a whole camping trip with the kids, you'll probably need to pack even more items.
Travel Cribs for Camping
If you've got young ones that are still in cribs, you'll want to consider getting a travel crib for camping.
You can bring or look into really any travel crib – it doesn't have to be made specifically for camping.
However, things like size, weight, assembly, and covering to keep away insects are all things to take into consideration when choosing a travel crib for camping.
You may want to look into a travel crib like the Munchkin Brica, which is usually priced around $100. This portable bassinet is excellent for newborns, babies, and parents.
If you've got older babies or toddlers, you may want to look into something a bit bigger, like the Lotus Travel Crib.
The Lotus Travel Crib weighs only 13 pounds when fully packed – in its very own backpack carry case. It has a thick, foam mattress, mesh sides for airflow, and insect protection, and it's safe and non-toxic.
If you plan on bringing your child's travel crib outside of the tent, here's a pro tip: put a fitted crib sheet over the top of the crib to fully prevent insects and other bugs from flying inside the crib.
Toys and Games
Your kids will likely want to bring their toys along camping, especially if they're young. While they should be occupied enough not to have to bring all the toys they have, it's a good idea to let your kids choose a few toys to bring on the trip.
Make sure the toys you bring are durable and easy to wash. Again, let's face it: kids will find a way to get their toys dirty while camping.
A few favorite toys can make the camping experience even more fun for kids.
Consider bringing some items like glow sticks, walkie-talkies, and fire color – like these Magical Flames that turn the campfire into a rainbow.
Things like cards, coloring books, and board games will also keep kids occupied.
Make sure to bring toys for the activities you plan on doing, too. For example, if you plan on going swimming, consider bringing floaties, beach balls, and sandcastle toys.
Camping With Kids: Once You Arrive
Camping with kids involves a lot of prep work, but all that prep is worth it! Once you arrive at your campsite, it's time to unload, set up, and start enjoying nature.
Things don't just stop once you arrive, though – you need to set up your campsite, be aware of ways to keep the kids safe, know how to take care of babies if you've got one, and take part in some activities!
Things get exciting once you arrive at your campsite – it means the trip is real and it's happening! Both you and your kids may want to leave your gear and get to having fun immediately, but it's essential to set up your campsite first.
Take a Campsite Tour
Before you even start setting up your campsite, you should drop your gear and have the entire family do a tour of the site.
Taking a tour of the campsite allows every member of the family to become familiar with it. It also allows you to spot any potential hazards or dangers around the campsite like poison ivy, thorn patches, fast-paced water, and steep bluffs.
This will also allow you to set boundaries with the family, which helps keep the kids safe. You can decide where the kids are allowed to roam, what they need to stay away from, and how you can keep them safe at the campsite.
Let Everyone Pitch In
Setting up the campsite doesn't have to be work – make it fun! Get everyone involved in the process.
You can allow older children to begin setting up the tent or start unloading items. Younger children can get assigned smaller tasks, like helping you or helping their siblings.
Some families even make camp set up a friendly game – they have a little "race" to see who can get their tasks done first.
Keeping Kids Safe While Camping
Things are a little more out of our control when camping, and that makes safety a huge priority. After all, camping usually takes place in the great outdoors, and in areas that we aren't familiar with.
How can you keep your kids safe while camping?
Create Boundaries
Back to that "campsite tour," we talked about – create boundaries with every family member.
Let the kids know what areas they're allowed to wander to, if they're allowed to go anywhere alone, and where home base is.
Make Fire Safety a Priority
If you plan on making a fire during your camping trip, fire safety needs to be discussed, especially young children.
Kids need to know what they are and are not allowed to do around the fire.
It may be helpful to draw a "fire line" and explain to the kids that if they travel past the fire line, the fire line will be put out (or some other reprimand will happen).
Give Kids the Right Tools
To keep kids safe, they'll need to be equipped with some camping tools too.
For example, make sure kids have headlamps or flashlights at night so that they don't trip over anything or get turned around.
Additionally, you can give each kid his or her own whistle for emergencies only. If any of the kids get separated from the family or in a dangerous situation, he or she can blow the whistle to signal for help.
Bring a Good First Aid Kit
Bringing a good First Aid kit is vital on any camping trip, but it's especially crucial while camping with kids.
Being able to treat minor cuts, scrapes, and other small injuries will help keep kids safe and happy.
Fun Camping Activities for Kids
You've probably heard that dreaded "B" word from your kids many times: Boredom.
Kids don't need to be bored while camping, though – there are plenty of fun activities to plan and participate in!
Fun activities for kids when camping include:
Taking a nature walk
Riding bikes (if the campground allows it)
Going for a hike
Going animal spotting (binoculars might help with this activity)
Telling campfire stories
Roasting marshmallows and making s'mores
Playing cards
Playing a board game
Solving a puzzle
Playing flashlight tag at night
Stargazing at night
Catching fireflies
Going on a nature scavenger hunt
Playing capture the flag
Going swimming
Singing songs around the campfire
Painting or drawing
Blowing bubbles (bubble solution and bubble wands needed!)
Bean bag tossing or playing "corn hole" (you'll need a corn hole or bean bag set)
Playing target practice with Nerf guns and paper cups
Playing charades
These activities aren't limited to just the kids either – it's pretty likely you'll enjoy all of these activities too.
Taking Care of Babies While Camping
Last but not least, it's essential to know how to take care of babies and young children while camping. It may seem complicated and daunting to take care of babies in the great outdoors, but it doesn't have to be.
In their article "How to Camp With a Baby," REI Co-op outlines the best ways to take care of babies while camping.
First, be prepared beforehand. Make sure you have all of the baby's formula and bottles if necessary. Also, make sure you've packed all of baby's foods – the simpler, the better.
You'll need to make sure you have access to plenty of clean water to clean out all of the baby's bottles and supplies and mix formula and food. You can easily boil water at your campsite by filling a pot with water and warming it over the campfire to sanitize bottles.
Additionally, bring lots of clothing options for baby and dress him or her in layers so you can be prepared for any type of weather. Try to opt for clothes that are made out of synthetics or wool instead of cotton – they dry more quickly and insulate better.
Make sure to bring along a portable crib or bassinet, as we discussed previously. That way, the baby can not only have a bed to sleep in at night, but he or she can potentially have a safe area to hang out outside the tent.
If you don't feel comfortable bringing baby's portable crib or bassinet outside the tent, you can bring along a portable playpen. Make sure also to bring some washable mats and blankets to set along the bottom so that the baby isn't directly on the ground.
Like with the portable crib, you can place a fitted sheet over the top of the baby's portable playpen to keep out insects and bugs.
Try to keep baby away from insects, bugs, and too much sun! Seek out shady areas during the day, apply sunscreen multiple times throughout the day, and apply kid-friendly insect repellants multiple times throughout the day.
Remember, your schedules are likely to be disrupted when you go on your camping trip. Try to be flexible and stay patient!
Bottom Line
Bottom line, you can start going camping with kids whenever you want – all you need to do is know how to start!
By planning, preparing, and packing for your camping trip, you can make the entire trip easier and fun. The more prepared you are, the sooner you can get to setting up the campsite, engaging in activities with the kids, and making sure everyone is safe.
Now that you know all the ways to make every member of the family a happy camper, it's time to actually get out and camp. You can go anywhere!