Camping is a wonderful way for people of all ages and backgrounds to enjoy the stillness of nature away from the stresses and hustle of normal life. Comfortable tent camping is quick, convenient and inexpensive. At many campgrounds it is possible to get electricity brought right to your tent.
That raises an important question.
Do I need an electrical hook up for camping in my tent? "No". However, there are times when a hookup will make your whole family tent camping experience that much more comfortable:
If you need a hook-up you will have to plan ahead.  Hook-ups are normally reserved for RV stands.  There are some exceptions – KOA campgrounds have premium tent pitches which provide electrical hook-ups for tents.
Some people feel that having electricity in your tent is dangerous. We discuss this and show that it is safe to have electricity in your tent.
Tents can be pitched on instead of an RV.  You will need to make sure the campground understands your requirement.
Once you have decided you want electricity in your tent, you need to know what to look for in an electrical lead and power unit, how to assemble it, and to safely operate it. You and your camping buddies will not be the only ones using the electrical hook-up, so safe operation is essential for the entire campsite.
Read on for a detailed guide on why and how you should use an electrical hook-up for your tent.
Please note: much of this information is relevant if you decide to use a camping generator too.
What is an Electrical Hookup for Camping?
Most public campsites will offer electric hook-ups of some sort. Whether campers use them for individual tents or RV use depends on the regulations and policies of that campsite, along with the type of power supplied. Note that these are not meant to function at a level equivalent to a household or cabin, but to allow campers to have the convenience of operating small appliances like kettles or blow dryers.
These power supplies can be located according to your site map, and are easily identifiable on wooden posts, which are referred to in this context as "pedestals." You cannot simply use just any plug – you must use an electrical lead and unit that is specifically designed to be used with the plugs provided on-site.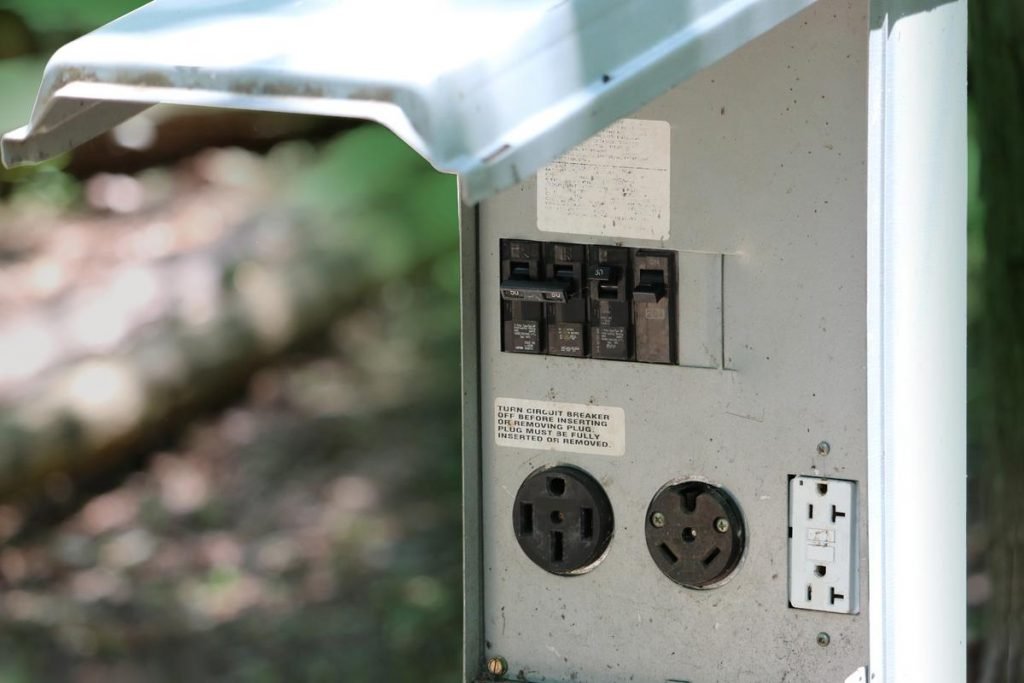 The most common amperage available at such campsites are 30A and 50A. Some may also have an extra 15/20V plug, which is similar to the outlets you use at home. You need to be conscious of the appliances you intend to use at a given campsite so that you avoid tripping the system. Campsites will often have restricted appliances, so check the regulations before going camping.
To avoid surges you can use hookup connectors with surge protection build in. The Surge Guard 44290 Portable Surge Protector – 120/240V, 50A. is a good example
Apart from safety reasons, there is one more factor to consider in why you need to choose your appliances and equipment carefully: Tripping the electrical supply is not only bad for your experience, but others as well (remember that the plug is not there for individual use, but communally). If this does happen for any reason, you need to contact the site manager and have them reset the system.
Reasons to Use Electricity When Camping
There are several reasons an individual or group of people choose to use an electrical hook-up when tent camping. Depending on the reasoning for your camping trip, you may reap different benefits than others. Some common reasons people use electrical hook-ups when camping are:
Entice reluctant campers – we know of many people who won't go camping because they fear the loss of their comforts. Assuring them they will have electrical power overcomes a major objection
Tent Heaters and Air Con – there are many ways of heating a tent. One of the safest and easiest is with a small fan or ceramic heater. Air con is not something we have used but an electric hookup is almost essential
Laptops, phones, tablets, console games… it gets to be depressingly long list but, for many people, it is unthinkable to be without their gadgets. It is a small relief that, while these people many be able to power their gadgets, they are likely to away from cell or wifi signals.
Medical conditions. Certain medical equipment, such as asthma nebulizers, need a power supply to function. Even those who struggle with chronic illnesses deserve to venture out and enjoy the natural world. Bringing an electrical hook-up lead and power unit will make your trip safer and more enjoyable for anyone that may need to power medical equipment. It can also be used for emergencies.
You are not required in any way to use the electrical hook-ups supplied at a given campsite. Although, you should recognize that a complete off-the-grid camping style is not everyone's cup o' tea. It simply may not be a suitable option for everyone in your party. Consider the individuals in your party, the goal of your trip, and the activities you wish to experience before deciding whether using an electrical hook-up unit is right for you.
Obstacles You May Face When Using an Electrical Hook-Up for Tent Camping
One of the most important things to know about any electrical hook-ups you intend to use is the campsite's policies for use. Many campsites that offer electricity provide this in full or partial hook-ups geared toward campervans or RV use. This means, since you intend to use the hook-up for your tent, your use may not comply with campsite standards and you'll essentially be taking resources meant for someone else.
You can either learn this proactively or the hard way, as some RV parks or campsites will give you trouble at the entrance, if there is any indication that you will be using electricity. Certain areas will even turn away smaller RVs if they happen to be a site focused on serving larger, more powerful RVs that use 50amp plugs rather than 30amp, for example.
To avoid any hiccups with compliance, all you need to do is check the website before your visit and save yourself the trouble of traveling all the way to a campsite that cannot accommodate your needs
How to Know If a Campsite Has Electrical Hook-Ups
You don't want to wait until you arrive at the campsite to know whether you'll be able to hook-up your unit or not. Look up your campsite ahead of time, either in a large search identifying where such campsites are, or by researching your desired site on its own. Look for the following information on the site map:
Site Type: There are three levels of "comforts" available for campsites. These are primitive, standard, and premium. As you likely assumed, there are no additional amenities for primitive sites, whereas standard campsites will have picnic tables and a fire ring, for example, and a premium site will have electricity, among other things.
Amenities: These will be indicated with icons and disclose how many amps are available if there is electricity. (If you see the term "FULL," this indicates that electricity, water, and sewer all provided at this site.
Icons: Besides the word "FULL," you'll also want to look out for symbols such as a motorhome or tent with an electric plug. These are further indications that there is power supplied at your desired campsite.
How to Get Electricity When Camping
There are two primary methods you can use to use electrical appliances at your campsite:.
Leisure battery: A leisure battery is similar to a car battery and is a power source specifically for 12V appliances and equipment. This is a tool commonly used in RV camping. They're designed to provide power over long periods and are most often used to supply electricity for lights, electric coffee makers, televisions, and other conveniences.
Electrical hookup: Many campsites across the U.S. offer hookups, which are explained in full detail below. In general, any sort of hookups at campsites are typically meant for RV use. There are "full hookups" and "partial hookups," both of which have a power supply. The pedestals typically come with a 30 or 50 amp, and may even have an extra 15/20 amp connection that's great for household appliances.
Camping Generators – Camping generators used to be quite big, noisy units. Nowadays, there are some outstanding, very small, very quiet Camping inverter generators
One of the most important things you must recognize about using these power supplies while camping is that there are more risks in an outdoors setting. Due to the moisture in the natural environment, and any dampness that may accumulate inside your tent, you must remain vigilant of the possibility of electric shock. If mishandled, even a standard 12V can do some damage.
Do not attempt to charge a leisure battery at a campsite hook-up. There are chargers specifically designed for this purpose and attempting to charge your leisure battery in any other manner may cause irreparable damage. If you wish to have a bit more power during your trip, simply have your battery fully charged upon arrival.
What to Look for When Shopping for Your Electrical Hook-Up
You will need to purchase a camping electric lead from your preferred outdoor shop. As mentioned earlier, the longer the lead, the better – the ideal length is normally around 80ft, but you are free to purchase a longer or shorter lead, at your discretion.
Camco 30′ PowerGrip Heavy-Duty Outdoor 50-Amp Extension Cord is one example. They are available up to 50′ length and can be daisy chained together to give greater range.
If you look closely you can see the 4 pins required for 50Amp connector
Inspect the cable carefully: At one end, you should see a weather-proof plug to connect to the electric hook up box at the site. On the opposite end, there is a moisture-proof box that protects either a single socket or multiple sockets (this will be an amperage of your choice, according to what is provided at the site).
30Amp Cable. Looking closely shows 3pins for 30Amp connector
Lastly, there needs to be an RCD safety mechanism (also known as the "trip switch") for safety measures in the event of an emergency. There may be additional specifications on the packaging, one of which is the Ingress Protection (IP) rating.
An IP rating is meant to represent the level of permeability a cable has as protection from foreign bodies including tools, dirt, water, etc. The IP rating will tell you how safe the lead is in terms of protection from these elements, in addition to any wandering kids' fingers. The minimum acceptable rating is IP44.
Preparing Your Electrical Hook-Up Unit for Use
Before you arrive at the campsite, you'll need to know what kind of power source they are supplying. If you have equipment that is specified to work with a 50amp power supply, but the site only offers 30amp pedestals, you will be in trouble as the two are not compatible. For your understanding, below is a description of each type of plug:
30amp plug: This plug has three prongs and is equipped with three wires: a 120V hot wire, neutral, and ground wire. This is a more limited power supply – and even if you attempt to operate the 30amp plug with an adapter, it will not receive more than its maximum of 3600 watts.
50amp plug: This plug has four prongs and is equipped with four wires: two 120V hot wires, a single neutral, and a single ground wire. The four prongs supply two separate sources of 120V feeds. These have a maximum of 12,000 watts (or 12kW).
Note that the most common amperage is 30 and that campsites offering 30amp electrical hookups are often cheaper to reserve than those with 50amps. Once you've ensured that your setup is compatible with the available plug, follow these guidelines to prepare your electrical hook-up for operation.
1. Gather the Elements for Setting Up Your Electrical Hook-Up
There are two main components of your set-up. You'll need to ensure that they are compatible with one another and the plugs provided at your intended campsite. To provide electricity to your tent, you must have:
Lead: You cannot just use any lead. It must be specifically designed for supplying power to the unit you will be using. Ideally, your lead should have special weather-proof plugs that are designed to be used with the hook-ups provided at the site. The recommended length is 80ft for maximum flexibility in the distance you decide to pitch from the hook-up. (Still, if you decide to pitch closer to the pedestal, make sure to uncoil your lead entirely to avoid over-heating).
Hook-up Unit: Here is where things can get a bit tricky. You may have an RV or campervan fitted with an electrical hook-up unit already, but, for supplying electricity to your tent, you'll have to purchase a hook-up unit specially designed for tent hook-ups. These are typically more weather-resistant and will take the same plugs as the average household items.
In every electrical unit, there is a component called the Residual Current Device (RCD) wired into the circuit. It is, in part, because of this device that you need to be careful in determining the compatibility between your electrical hook-up unit and power cable.
This is because the RCD is designed to shut down the power supply immediately if there is a leakage of the current to earth. Such a leakage happens when if an individual mistakenly makes contact with an appliance that is damp – especially when the person is standing on damp ground. There is also a secondary component, known as the Miniature Circuit Breaker (MCB) to shut off the excess power supply.
2. Before Setup, Inspect Your Equipment for Safety
Ideally, this step would have been done before heading out to the campsite. You need to make sure that your equipment is safe to use to avoid any possible injury or fire hazards. Have your hook-up cable and unit tested regularly for standard functionality. When you're ready to install, safety measures then fall under your responsibility, as you need to ensure that each component is properly connected and clear of hazards.
If you feel at any point that your electrical equipment does not adhere to the safety standards of the campsite or suspect that you may have installed the unit incorrectly or in an unsafe mannner, disconnect your unit from the power source immediately.
3. Setting Up Your Electrical Hook-Up Unit (and How to Test It On-Site)
Now that all of your equipment has been inspected for compatibility and standard functionality, you're ready to bring it along on your camping trip. Once you identify the location of the power supply, follow these guidelines to set up your electrical hook-up unit:
Check that the RCD on your unit is in the OFF position.
Connect the lead to your unit. You must connect your lead to the unit first! This is to avoid you having to carry a live lead back to your unit and mitigate the risk of injury.
Plug into the hook-up provided.
Now, you need to test that your RCD is functioning properly to cut off power in the case of a current-to-earth leakage. Do this by using the following steps:
Place the RCD back into the ON position.
Press the TEST button on the unit and observe the following behavior. If the unit does not power on, it is not safe to use. If this is the case, you need to disconnect your unit and have it evaluated by a qualified individual.
If your unit was operating normally, and you are now done using it, follow these steps to safely turn it off:
Turn off the RCD.
Disconnect the cable from the hook-up bollard first. Again, this is to ensure that you will not be carrying a live cable to your tent.
Remove the cable from your unit.
Part of a safe set-up is being mindful of the unit's surrounding environment. Just because it will be in your tent does not mean it is protected from all hazards! Although tents keep many natural elements out, they also tend to trap quite a bit of moisture inside. If you are storing your electrical unit inside of your tent, you must have the means to protect it from such moisture.
Typically, the socket at end of the cable will be fitted with an attachment or other means of fastening it to your tent, above ground level. Fix your cable to the inside of the tent, preferably away from the door or other opening, to reduce the chances of any harsh elements affecting the equipment. Never store electrical equipment on the floor of your tent, as leaks or condensation could lead to malfunction or electric shock.
What to Consider When Using Electrical Equipment at a Campsite
It may seem unnecessary, but you must seriously consider the appliances you intend to use at the campsite. First realize that you can't bring along all the appliances you typically use at home, or as you would in a "glamping" cabin. That's because, in a typical home setting, there are numerous sockets – so many that it's quite rare to overload them.
A socket at a campsite, however, is much more easily overloaded than those provided in a home or cabin. For example, if you are on a campsite with a 50amp power supply, you have a maximum of 12kW available. This means that you could power multiple small appliances, such as a small tea kettle and a toaster. However, if someone were to plug in a hairdryer, you run the risk of tripping the electrics.
Of course, not all appliances require the same wattage, so a good way to prevent such an incident is to add up all the Watts of your desired appliances (especially if you expect to use them all at once). Make sure that the number is less than what is available at the campsite. To be safe, try not to have the total too close to the available power, but a good buffer of one to a few hundred Watts (if possible).
Additional Safety Tips for Using Electrical Units in a Tent
Multiple elements can influence the risks associated with using an electrical hook-up unit in your tent. Your response (both preventative and reactive) to these hazards makes your use of the hook up so much safer. Those elements include:
The amount of power your campsite has available
The type of tent you have (standard, hammock, with/without a rainfly, etc.)
The environmental conditions (this can differ based on time of year or geographic location of your campsite)
Appliances you intend to use (and whether you wish to use them on their own or several at a time)
With these factors in mind, here are a few more safety precautions to follow when using your unit:
If there is a dedicated point of entry for your cable in your tent's design use this to feed the lead into your tent, rather than the front door to mitigate tripping hazards. This may also supply greater protection to your lead, as the entry point may have a cover for the lead for greater defense against the elements.
Never leave a unit or any connected appliances powered on overnight or in an unoccupied tent. This is primarily because you will not be able to monitor the moisture levels inside the tent, leaving your site at risk of hazards including electrocution or fire.
If you begin to notice the conditions inside the tent becoming humid, immediately shut off the electricity, unplug any appliances in use, and cover all the sockets.
Never use standard household appliances in your tent. Even if it is just a simple kettle or hairdryer, household appliances are not designed for outdoor use. Not only does this leave them more vulnerable to electrical hazards posed by operation in an outdoor environment, but they will also increase your chances of tripping the electricity and are likely to overload the system and may cause an outage.
It is best to use only one appliance per socket to avoid overloading the system. This means avoiding the use of multi-plug adaptors, as you are likely to plug in far too many appliances at once and blow out the power.
Do your best to avoid using extension cables to connect your unit to the site power supply. There are leads specifically designed for outdoor use and EHUs. Your safest option is to use those instead. If for some reason you cannot avoid using an extension cable, just make sure to use weather-proof connectors and not to rest the cable on the ground.
What Electrical Appliances Can You Use at a Campsite?
Recall the MCB mentioned earlier. Each campsite's electrical supply is equipped with an MCB to mitigate any hazardous effects of excessive power use. Part of your responsibility is to avoid tripping the MCB by accounting for required wattage from each of your appliances as outlined above.
First, you'll need to know what is appropriate to bring. Here are some popular electronics that people typically bring along on a camping trip and the amount of power they require:
| | |
| --- | --- |
| Appliance | Average Required Power (W) |
| Camping Kettle | 750 |
| Small Microwave | 1000 |
| Portable Fan Heater | 1000-2000 |
| Toaster | 900 |
| Low-Power Hair Dryer | 600 |
As you consider what appliances you want to bring, consider what you will be doing on your trip and the environment you'll be subject to. For instance, if it's cold, you'll want to bring along a fan heater and possibly a kettle for warm drinks. If it's likely to rain, you should probably cut down on the number of appliances you plan to bring along.
You can also take further precautions by having staff or rangers demonstrate how to reset the electrics in case they do trip. (Note that this may be something only the owner of the campsite can show you, so be mindful of the operating hours of the park.) You also need to find out if there are fees associated with having to reset the electrics.
So, Do You Need an Electrical Hook Up For Camping in Your Tent?
Being able to quickly heat or cool your tent, keep your appliances and gadgets charged and to be able to play console games can add to your camping experience.
For those with some medical conditions, having access to reliable electrical power is essential. Without electrical hook up, camping is impossible for some people.
The truth is, for most of us, an electrical hook up is a luxury – we don't need it.
And there are many other options too.