Finding a sleeping solution that was acceptable to our young children took quite a long time.  After quite a bit of trial and error, we settled on each child having their own single, self-inflating sleeping pad with sleeping bags.
Options for Young Children's Sleeping Support
One of the reasons we struggled with finding an acceptable solution for ground support for our children while family camping was that classic mistake – I am a parent – I know best.  It turns out we didn't.
Options tried:
Queen Air Mattress
Individual, single air mattresses
Bean bags and cushions
Self-Inflating Single Sleeping Pads
For our family camping trips, we are fans of larger tents.  All of our tents are multi-room tents too.  In this case, we had a Coleman tent (can't remember what model – it looked a lot like their current Montana range) with 2 dividers allowing us to create 3 rooms – 2 bedrooms and a living/gear storage room.

Coleman Montana 8-person, multi-room tent
Queen Air Mattress
Using a queen-sized air mattress has been our choice of sleeping support for years.  We initially started with an air mattress and sleeping bags.  Over the years we progressed to sleeping on the mattress, with the mattress covered by a blanket, and us covered by a duvet.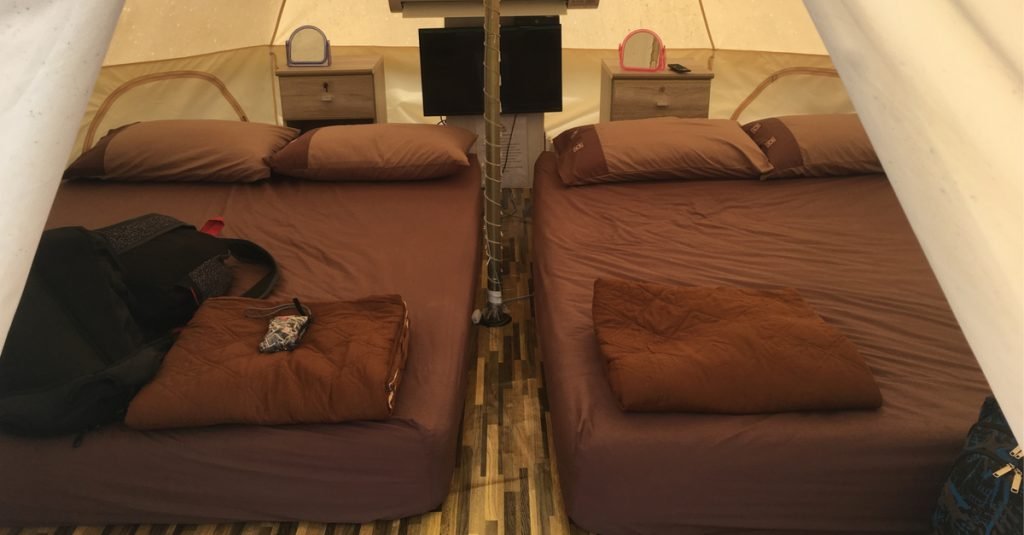 So, first major camping trip with our 2 boys aged about 4 and 8.  The parent's plan was for the boys to share a queen mattress but each using their own sleeping bag.   It got off to a bad start with the younger boy in floods of tears at the prospect of sharing a bed with his big brother.  Eventually, we got everything quietened down and everyone went to bed.
We learned a lot about our boys that camping trip.  It is amazing how mean and devious 2-brothers can be.  Let's just say, a shared queen-sized air bed was not a successful option for the whole family being able to get much sleep.
Individual, Single Air Mattresses
Following all the trouble of the first trip, we spent quite a lot of time talking to the boys about the experience.  Luckily, they had loved the camping trip – mostly because we were on a working farm and they were each able to go off and do their own thing during the day.
The problem was only caused by them having to share the mattress.  They both agreed it was comfortable – at least when they weren't occupied trying to kick the other off.  So, the theory was to avoid the shared bed aspect and to get them their own air beds.
What a disaster!
This time, the problem wasn't the bickering siblings.  At least, not as much as the first trip.  The problem is using single air beds and sleeping bags.
Sleeping bags are slippery.  Single Air beds are also slippery. Put the 2 together and you have a recipe for disaster.
If you lie perfectly still – preferably flat on your back – a single air bed can be incredible comfortable.  If you sleep on your side we think the average person will fall off the air mattress within minutes of falling asleep.
Young boys don't stay still for long – even when they are supposed to be asleep.  With the slightest movement, the sleeping bag and air bed would part company. 
And it doesn't happen gently.  As you roll, you squeeze air away from the side of the mattress.  At some point the mattress stops supporting you and dumps you on the ground.  The air rushing back into the side of the mattress catapults it away – either across the bedroom or up into the air.
Either way, it is sure to disturb the other brother who, tired and grumpy, reacts badly.
Initially we thought they were messing with us.  Then we saw the mattress fly into the air.  It got to be quite funny but it wasn't great for a restful night.
Bean bags and Cushions
The idea to take bean bags and cushions came from our younger son.  He was a massive fan of sleepovers at his friends' houses.  Seems he often slept on nothing more than bean bags and cushions.
Elder son elected to stay with air bed (on the grounds that it was younger son that had caused all the trouble before). 
This solution stopped most of the arguing.  Packing  cushions wasn't much trouble.  Getting bean bags in the car took a bit of ingenuity but somehow we managed.

Bean bags look great but are not a great night time sleeping solution
Turns out that sleeping bags and cushions are not that comfortable to sleep on.  Sleep overs at the age of 4 or 5 don't involve much sleep.  When you try and sleep on bean bags for a full night it isn't comfortable, and they are too easy to fall off.
Add this to finding elder son sleeping on the floor most mornings – he had parted company with his air mattress during the night – and you will see that we still didn't have a young child sleeping system.
Self-Inflating, Single Sleeping Pads
With hindsight, the solution to our sleeping problem was obvious.  Self-inflating sleeping pads appear to be as much fun as an air bed to a 4/5 year old.  However, they are flatter, don't allow the air to be squeezed out, and are altogether more stable.
Both boys were fascinated (if ultimately a bit disappointed) with the idea of a self inflating mattress.  They clearly expected something much more spectacular than unrolling the sleeping pad, opening the valve, and waiting for 10 minutes or so for it to inflate. 
The novelty had definitely worn off long before the sleeping pad needed to be deflated for packing.
For single beds, these sleeping pads were ideal.  Warm, comfortable and providing lots or support, and, best of all, very stable.  Young son tried his best to roll of the sleeping pad to see if it would fly into the air like the air mattresses.  Eventually, disappointed with the lack of action, he had nothing to do but to go to sleep.

One of the top selling self-inflating sleeping pads
The Moral of This Story
Our biggest lesson – it doesn't matter how young your children – talk to them.  They may have an opinion, or, in the case of our youngest – a streak of independence so wide that he never wanted to share a mattress with his big brother.
2nd lesson, if you have not camped with children before, don't assume that your favorite solutions are going to work.  Talk to others who can share their experience with you.
Final thought – it's OK to experiment.  Other kids might love sharing a double air mattress.  We do not have any daughters. They could take a completely different line to our troublesome sons.
Try cushions, throws, blankets and pillows.  Find what works for you.
Just avoid the innocent looking, but deadly, single air mattresses.  I can't see how they are good for any family camping setup.
Find Your Ideal Sleeping Solution
Being able to sleep comfortably when camping with your family is so important that we have several articles on the subject. You may be interested in: