If you have taken a look at our 'about us' page, you know that this website is all about family camping, in tents, in lots of comfort.  Nowhere is this more important than ensuring you have a sleeping system that ensures that you can sleep as comfortably as when you are at home.
Our choice of what is best for 2-people to sleep on while camping has for many years been to use an air mattress to sleep on.  A queen-sized air mattress, with fitted sheets, and covered with our duvet from home is comfortable and warm.  Don't forget pillows – you can improvise but using normal pillows from home is always more comfortable.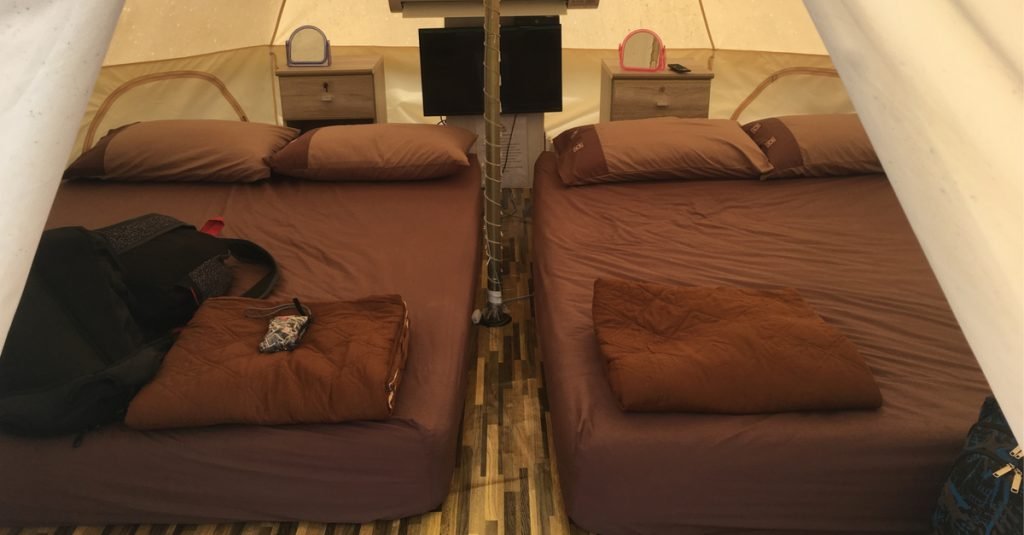 If you are going to camp mostly in summer or early fall, we think that most couples will be well served by an air mattress based sleeping system.
Family Camping Sleeping Articles
Sleeping in comfort is a key part of your camping experience. The days of sleeping bags and minimalist sleeping pads are long gone. To find out more you may also be interested in our other articles on sleeping comfortably in tents:
Options for Couples to Sleep on While Camping
While you may do more than sleep in your camping bed, there remain only 3 real options:
Air mattress
Double Sleeping Pads
Double Camping Cots
Air Mattresses (Air Beds) for Camping
We have written on the advantages of air mattresses and duvets, and air mattresses and blankets in previous posts.  Follow those links if you want to know more.  We believe that air mattresses are still the best option for most couples in a family camping setup.
Advantages 0f Air Mattresses for Camping
Huge range of types, styles, sizes and features available.
Comfortable to sleep on.  Firmness can be controlled by varying the inflation
Will totally protect you from hidden rocks or uneven ground
Range of depths available so there are options that will make it easier for those who find it difficult to get down on to the ground for sleeping
Quick and easy to setup.  Many have built-in pumps and can be inflated in minutes by hand or electrically via a 12V supply,
Pack up reasonably small for pacing and transportation
Air mattresses are beds.  You can use your normal sheets, blankets, duvets (our choice) and pillows
Disadvantages of Air Mattresses for Camping
Can be bouncy depending on the degree of inflation
Firmness depends on the temperature of the air in the mattress.  When you inflate it during the day the air temperature could be high.  At night, the temperature will have dropped causing the air mattress to sag.
Some people claim air mattresses can be cold to sleep on.  This is not a problem in summer or early fall where your biggest problem is likely to be getting your tent cool enough.  In early spring or late fall, when the evening air temperature drops quickly, your air mattress could feel cold
Better quality air mattresses (and going for a cheaper plastic model is definitely a false economy) that include insulation and thicker materials, can be large and heavy when packed
Can leak – another good reason for buying a good quality mattress.
Getting the Most From Your Air Mattress
We are never likely to camp in the colder months, so we have never found our air mattress to be cold.  It will never be as cold as the ground so you can solve this potential problem by using a camping blanket as an underlay.
Air bed bounce can be a problem.  Unless you inflate the air bed until it is hard, you are going to have some bounce.  When you first start sleeping on an air mattress you are likely to over inflate it. 
Unless you like an exceptionally firm mattress to sleep on, you are going to be better served by inflating the mattress so there is some give remaining.  In this way, when you lie on the mattress it will form to your body shape and provide you uniform support everywhere.  As your partner gets onto the mattress their weight will compress the air too.  The air has to go somewhere and is going to cause you to bounce.  If you are both restless sleepers, every time you move you are going to affect your partner.
The key is to always try to go for slow and gentle movement.  Once you are settled in for the night, the air mattress provides perfect support to every part of your body and is very comfortable.
Making love on an air mattress is possible.  You just need to ensure your stick with the slow and gentle mantra.  If your tastes are for something more vigorous, at some point one or both of you is going to get bounced off.  That can be a little difficult to explain to a 4-year-old at 3 in the morning.
Best Air Mattresses for Couples When Camping
There are many excellent air mattresses available for camping and the home.  The golden rule is, "Buy the best you can afford".
Some of the criteria you should look for:
Size – Queen is good
Depth – Most air mattresses are about 6inches deep when inflated.  That is great – you can sleep very comfortably.  You might like to consider a double thickness mattress if you have difficulty getting in and out of low beds.
Insulation – look for a flocked top
Leak resistance
Build in pump – rapid inflation/deflation times
Packed size and weight – smaller/lower is better
With that in mind, here are some of the best air mattresses available.
The EtekCity is a typical Camping Air Mattress. Like all of these mattresses, they are sold as both a camping solution, and as a spare bed for your home.
Its inflated size is 80 x 60 x 9 inch. To minimize roll and bounce the mattress incorporates 'coil beam' technology. The only real downside is that this model doesn't come with a pump.
Coleman Air Mattress | Double-High
If you need a double height air mattress, this Coleman model could be just what you need.
SUPERIOR SUPPORT: Coil construction contours to body for better support DOUBLE HIGH: Extra height makes getting in and out of bed easier SOFT FEEL: Velvet-like plush top for more comfort STABLE SUPPORT: Reinforced construction for added stability LEAK-FREE: Dual-sealed valve prevents leaks for all-night firmness DIMENSIONS: 78 x 60 x 18 in.; fits standard queen-size sheets SUPPORTS: Up to 600 lb.

Coleman
Double Sleeping Pads
Sleeping pads are the most popular alternatives to air mattresses for 2 people to sleep on during a family camping trip.  Not surprisingly, there are advantages and disadvantages when compared to air mattresses.
There are 3 main types of sleeping pad available. 
Simple roll up matts
Foam sleeping pads
Self-inflating sleeping pads
The good news is that there are several In doing our research we have only found self-inflating sleeping pads to be suitable for 2 people.
Advantages of Double Sleeping Pads for Couples Camping
The foam cells provide structure and some rigidity
Air is pulled into the cells formed by the foam structure which limits passage of air between the cells and helps stop the bounce affect described above
Inflates and ready for use with no effort from you.  Throw on the gound, wait a few minutes, close the air valve, and the pad is ready for use.
Less air is contained in the cells compared to an air mattress.  Your body heat is able to quickly warm the air contained making a self-inflating sleeping pad warmer
Light and packs up small for carrying and transportation
Disadvantages of Double Sleeping Pads
Less choice of styles, types, and sizes
Low to the ground – typically 2 – 3 inches
Less bounce  – you are affected less by the movement of your partner
Self-inflation not as effective as advertised.  Some additional effort is often required to get to full inflation
As prone to leaks as air mattresses. 
Getting the Most From Your Sleeping Pad
Lots of manufacturers will try to sell you on the increased R factor (level of insulation) a sleeping pad provides between you and the ground, In fact, air mattresses provide a higher degree of insultation.  The problem is that the air in a mattress takes its temperature from the surrounding air (and to a lesser degree, the ground).  There is much less air in a self-inflating sleeping pad.  The increased insulation from the sleeping pad moderates the speed at which the trapped air drop to ambient.  In very cold conditions, a sleeping pad will feel warmer to sleep on.
Fortunately, there are now a range of double sleeping pads available which provide higher levels of thermal insulation. For most comfort and insulation you will need a self inflating sleeping pad.  These are designed to capture the air in foam pockets.  You get the extra support from the air while enjoying the extra insulation provided by the foam.
If you are lucky enough to have a few moments for a little love making, sleeping pads also provide a better experience.  Energetic love making will not lead to you both bouncing off the bed.  Slow and gentle may still be better if you don't want to disturb others in your tent.
The biggest disadvantage to sleeping pads is their size.  We have yet to see anything larger than a double bed size.  Even then, the width is only 47inches.  A normal double bed would be 54inches and a queen size 60inches. 
If you are used to a queen or bigger bed at home, you will find sleeping very closely together on a double mattress very cosy.
Best Sleeping Pads for Couples When Camping
When buying a sleeping pad for 2-people to sleep on, you need to consider almost all of the same considerations as for an air mattress.  We think sleeping pads are going to of most value to backpackers and hikers.  In that case, your most important considerations are likely to be:
Comfort
Packed size and weight.
With that in mind, here are some of the best sleeping pads for couples available now.
Measuring 79×47.5×3.75 inches(LxWxH) with a packed size 13.8×5.9 inches and a weight of 58 oz, the Hikenture Double Sleeping Pad is a good choice for backpackers.
For us, that 47.5″ width is just too small for 2 people to sleep together comfortably.
Measuring 79.1" x 50.3" x 3.0″, the Kingcamp is a genuine double size (though still 10″ smaller than a queen size). It gets great reviews from its users.
Weighing in at 11lbs, this sleeping pad is more suited to a car camping setup. It can't be said to fold up small either so you had better make sure your have space in your car.
Double Camping Cots
Camping cots or camp beds are known to every scout, guide and military veterans.  They are a quick, easy way to provide a means of sleeping off the ground.
We have always found cots heavy, time consuming to set up, uncomfortable to sleep on, and cold. They do provide the clear advantage of lifting you off the ground and may make it easier for you to get on and off the bed.
Fortunately, just as with sleeping pads, modern designs are lighter and provide much more insulation.  Some cots require minimal setup and can be rolled up to something as small as a foam sleeping roll.
Most camping cots are single size.  Coleman do have Queen and Twin sizes available too.  Interestingly, these are designed to be used with either an air mattress or a sleeping pad.  At 40inches wide, the twin is not really a viable double solution.
These are not lightweight.  The queen with air mattress comes in at 42lbs. 
Best double camping cots
So, What is Best for 2-people to Sleep on While Camping
We have given you lots of food for thought on the merits of air mattresses versus sleeping pads for 2-people to sleep on while camping.  In the end, your decision will be determined by:
The type of camping you do – car camping or backpacking
The time of year that you camp – summer vs winter
Your personal preference
For comfortable, family camping we still choose a queen air mattress, a camping blanket as an under layer, and a duvet from home.