No matter how many times you have been camping, there is always a momentary panic when you start to think of 'What Food to Take Camping'. In a perfect world we want a mix of the quick, easy and tasty. A few more gourmet options work well too.
Packing food that is easy to serve, prepped ahead of time, easy to store, and simple to dispose of is essential to enjoying your outdoor adventure.
What food should I take when camping? Including several non-perishable meals and snacks along with sandwiches, meats, dairy, and salads ensures an amble food supply in case of an accident. Prepare perishable food at the beginning of the trip to avoid spoilage or contamination.
Camping with your friends or family can be an incredible experience, but often the planning phase of the trip results in frustration. Bringing the right food is at the top of your to-do list, but without having access to a refrigerator, the task seems daunting. However, if you prep the meals before you leave, you can safely enjoy delicious food. All it takes is a little slicing, dicing, and cooking. You'll be enjoying the outdoors, with a full belly, in no time.
Be warned – the photographs in this article are going to make you hungry
15 Essential Foods to Take Camping
We are going to get onto some more exciting, adventurous food later. Here's a list of tasty camping food that should be on every camping checklist: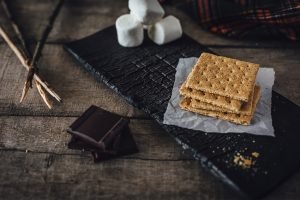 Trail Mix
Energy Bars/Granola Bars
Canned Soup
Oatmeal
Beef/Turkey Jerky
Dry pasta with sauce
Chicken Salad
Dehydrated Fruit
Crackers
Graham crackers/cookies
Hot Dogs/sausages
Purified Water
Chili
Sandwiches
Coffee (not instant) and Tea
What Food to Take Camping – Essential Foods by Category
When deciding on what food to take with you in can be helpful to think in terms of food types or categories. It's particularly useful for the hikers and athlete's who just have to get the right mix of food.
Snacks
Protein
Carbs
Drinks

Trail mix Energy/granola bars Dehydrated fruit Crackers

Beef/turkey jerky Hot dogs/sausages Chicken Salad Sandwiches
Chili

Oatmeal Pasta Canned Soup

Coffee and tea
Bottled or purified water
Non-perishable food, such as canned goods, sealed pasta packs, energy bars, or jerky, does not need to be refrigerated. However, exposing the items to extreme heat can lead to spoilage. If you cannot bring a cooler to your campsite, rely solely on non-perishable items.
Check the labels on your food for the proper storing temperatures. If you keep your non-perishables sealed and away from direct sunlight or heat, you're unlikely to experience that problem.
How to Keep Food Cold While Camping
Coolers
Keeping your food cold for several days is simple if you have an insulated cooler. Although they're pricier than the standard coolers, they're worth it. Insulated coolers, like this Yeti model, keep food cold for long periods and retain more ice than conventional models.
Freezing your meals and water bottles before packing them in a cooler will also assist in keeping your food frosty.
Try to avoid placing warm or room temperature food in the cooler. The colder the food is when you pack it, the longer it will stay cold.
Take a look at our article on the best camping coolers for an in-depth review of the options available.
12V Coolers and Camping Fridges
Traditional Chest Coolers have been at the heart of camping trips and tailgate parties for many years. Now, there are increasing numbers of very able 12V camping coolers and Camping Fridges. If you are going to be camping regularly, we strongly recommend investing in a Camping Fridge. Camping fridges will drain your car battery quite quickly.
You will need a secondary source of electricity – our favorite continues to be to use an inverter-generator. We continue to investigate solar power. I feel sure we will make the jump quite soon.
Bestseller No. 1
Setpower AJ50 53 Quarts Portable Freezer Fridge 12V Cooler, 0℉-50℉, DC 12/24V, AC 110-240V, Car Fridge Compact Refrigerator, for Truck, Van, RV Road Trip, Outdoor, Camping, Picnic, BBQ, Patio
✅ FREEZERS WITHOUT ICE: Strong Compressor Function. Adjustable Temperature From 0℉-50℉. No need to prepare ice when going out.
✅ Car & Home Use: DC Power Cable for Car (12/24V); Free AC Adapter for Home Socket (110-240V).
✅ MAX & ECO MODE: MAX Mode for Fast Cooling. ECO Mode for Energy Saving, which is design for outdoor limited energy.
✅ OUTDOOR ADAPTABLE: Work normally within 30° bumps, easily handle muddy mountain roads or steep valleys.
✅ WARRANTY: 2 years on compressor and 1 year for other parts.
Sale
Bestseller No. 2
Igloo 28 Quart Iceless Thermoelectric 12 Volt Portable Ice Chest Beverage Cooler, Silver
Swing-up bale handle with comfort grip for easy carrying. Liner Material: Polypropylene
Molded-in side handles for two handed carrying or lifting. Capacity-32 12-oz cans; 26 quarts (24 liters)
8' long power cord plugs into any 12V DC receptacle (e.g. cigarette lighter) for portable use - good universal fit in 12V outlet
uses your car's cigarette lighter to cool without ice, unlocking more room for food and drinks, as well as keeping all contents fresh and dry. Takes cooler temperature down to 36°F below surrounding air
Material:Polyethylene
Bestseller No. 3
K-box Electric Cooler and Warmer with Wheels for Car and Home - 48 Quart (45 Liter) - 6 FT. EXTRA Long Cables Dual 110V AC House and 12V DC Vehicle Plugs (Grey White Blue)
PORTABLE TRAVEL COOLER FRIDGE & HEATER: Whether you're travelling on the road or camping in an RV, camper or minivan, this large capacity storage container to heat & warm or cool & chill food & drink.
PLUGS IN ANYWHERE: The cooler/warmer combo has 2 6 FT. Extra Long built in cords - one for standard wall outlets, and one for car power adapters. Both have storage compartments to be hidden when not in use.
VAST STORAGE SPACE: This 48 quart cooler stores about 60 cans of soda or 6 two liter bottles and 15 cans of soda or beer. A removable divider creates 2 compartments for easier organizing and storing.
CHILLS WITHOUT ICE: Forget ice packs that need constant refilling, take up precious space, and leave you with a watery mess when they melt. This cooler maintains a cool 40°F temp without any ice.
DOUBLE HANDLES AND WHEELED: Two handles and wheels make it easy to carry or pull. A dual functioning handle allows you to carry your cooler in hand or pull it on the ground using the wheels.
How to Store Food While Camping
Store pre-prepared meals in airtight containers, and use Ziplock bags for fruits, vegetables, crackers, sandwiches, and seasonings. Reseal all bags after use to avoid lingering odors that may attract wildlife.
When packing your cooler, place raw meat or seafood at the bottom of the cooler. Although many campers recommend putting all the food that will be consumed first at the top of the cooler, it's unwise to place raw food above cooked or ready-to-eat food. If your cooler is damaged or defective, it may not retain cold temperatures and can lead to your raw hamburger dripping on your chicken salad container or sandwich bags.
Yes, that scenario is unlikely to occur when you own an expensive insulated cooler, but it's not worth the risk. Food poisoning makes people miserable in their comfortable homes but would be a nightmare on a camping trip.
Ideally, you should bring one cooler loaded with raw meat, and place drinks and cooked food in another cooler. If you cannot bring two coolers, tightly seal your meals and put them in separate containers.
Food to Cook While Camping
If you're against cooking campfire staples like hot dogs and hamburgers, you may want to get creative. Frozen pizzas and Greek gyro with pita are two options that people rarely associate with camp food, but they're incredibly easy to cook.
Remember, if you can barbeque it – you can cook it on a campfire. Building a campfire for cooking may need a bit of planning. Check out our guide on building a campfire first.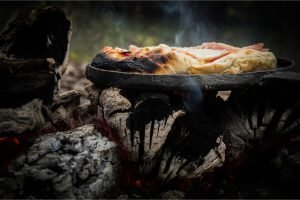 Wrap frozen pizza in aluminum foil and place it on the coals of the campfire. It takes about twenty minutes to bake, but you will be surprised at how great it tastes.
To make gyros, cook the meat so that when you get to the campsite it only needs to be reheated in a pan. Wrap pita in foil and lay it on the fire's coals for five to eight minutes.
Here are some gourmet options at the campsite:
Blackened shrimp on skewers
Grilled marinated chicken or beef
Buffalo wings (baked in foil or grilled)
Grilled tilapia with tortillas
Fajitas
Blueberry Cobbler in a Dutch oven
For more ideas, check out these suggestions from Bon Appetit. Or you can get some mouthwatering ideas by watching the video below
Prep Ahead of Time
One of the keys to enjoying stress-free cooking at the campsite is prepping ahead of time. You don't have to worry about the ready-to-eat items such as energy bars. Some of the meals you can prepare in the days before you leave include pasta with sauce, sandwiches, chicken stir fry, and chili.
Pasta
At the campsite, you can serve your famous pasta sauce. Cook the sauce at home and freeze it in an airtight container. When you're ready to cook on your trip, drop the sauce in a pot and cook it over your camp stove or fire. Boil your dry pasta separately, and you're all set.
Make sure that the sauce container's base is not wider than your camping pots. If the sauce is still frozen when you want to cook it at the site, you'll have a hard time getting it into a smaller pot.
If you'd rather purchase a high-end, freeze-dried pasta meal, try this one.
Sandwiches
Prepare your favorite sandwiches such as peanut butter, turkey and cheese, or pimento cheese at home. Wrap the sandwiches in plastic wrap and seal them in a Ziplock bag.
If you're going to store them at the top level of your cooler, it helps to seal the sandwiches in an additional bag to avoid sogginess.
Chicken Stir Fry
You can use beef, seafood, or tofu in your stir fry instead of using chicken. If you don't want to cook the rice at the campsite, mix the cooked rice with your meat and veggies before you freeze it. The rice will not be as firm if you freeze it instead of cooking it, but it's not too bad.
Add stir fry sauce to the meat, veggies, and rice before you freeze it to keep the dish from tasting bland or dry when you reheat it at the site.
Chili
Make a batch of your blue-ribbon chili and freeze it in an airtight container. It helps to cool the sauce in an ice bath before placing it in the freezer. Keep the chili in the freezer for at least three days before placing it in a cooler.
Don't Forget the Smores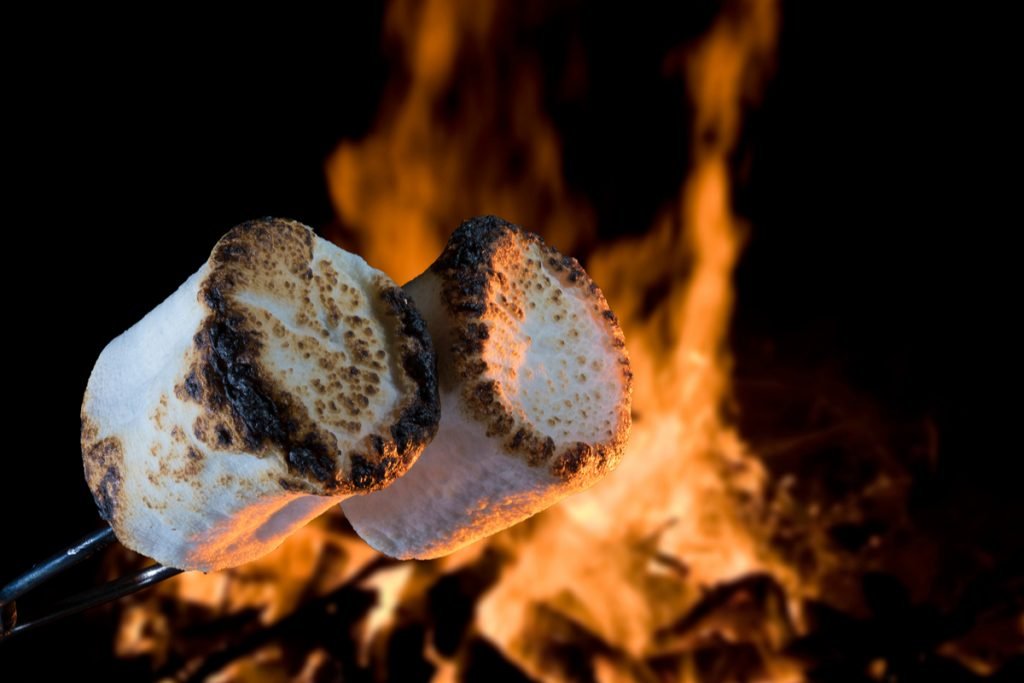 How to Pack Food for Camping
Seal all your camp food in plastic and use airtight containers for raw food or prepared meals. Remove air from Ziplock bags before sealing. Your food will last longer and will not emit odors favored by wildlife.
Pungent or aromatic food items benefit from a double layer of protection. Use two Ziplock bags for shrimp or fish, and marinated meat should be wrapped in plastic wrap before you drop it in a Ziplock bag.
Any bag or cooler that contains multiple food items should have
chicken at the bottom
beef on the next level
seafood above beef
and ready to eat food at the top.
This system mimics the federal code for restaurant inspections and protects your family and friends from food-poisoning. However, placing all raw meat and seafood in a separate cooler is the safest option.
One of our top tips for awesome camping is to take 2 coolers. You are going to want to keep one just for drinks. This is the one everyone in your party is going to want to open and close all the time. It will get warmer quicker. That doesn't matter too much for most drinks.
How to Dehydrate Food for Camping
If you love beef jerky and dehydrated fruits and vegetable, you may want to purchase a dehydrator. They're inexpensive, and they put you in control of the flavors you crave at the campsite. Some models, like this one, cost under forty dollars and are simple to use and clean.
Slice up your favorite cuts of seasoned meat, sauté them, and place them in the dehydrator. After a few days, you'll have your very own jerky to serve your camping buddies. Fruits and vegetables take less time to dehydrate than meat, and they're superior to store-bought versions.
How to Properly Store Food When Camping in Bear Country
Bears have an enhanced sense of smell and pose a risk to your health and food supply. All food should be tightly sealed in plastic and placed in an airtight container or cooler. Some campsites offer bear boxes to protect your food. If they do, take advantage of it.
If it's near the campsite, store all your food in your vehicle at night to provide an additional layer of protection from a bear's sensitive nose.
After finishing your camp meals, reseal all food bags and containers. Pick up leftover crumbs and keep refuse away from sleeping and eating areas. Insulated coolers are the perfect place to store food since they are airtight. Some even claim to be bear-proof.
How to Keep Food Cold for a Week Camping
If you're planning to camp for a week, it is best to bring two insulated coolers. Freeze your prepared meals several days before you place them in a cooler and plan to serve raw meats and seafood during the first days of your trip.
Opening the cooler as little as possible will allow it to keep the food colder. Store the cooler in a shady spot. The sun's rays will quickly raise the cooler's temperature.
If you have electricity, you should consider investing in a camping fridge, or, at the very least, a thermoelectric camping cooler.
Final Thoughts
Whether you plan to serve hot dogs or gourmet cuisine on your camping trip, the first rule is to have fun. Cooking food in the wilderness shouldn't be a chore. Even when dispersed camping, with proper planning and a little common sense, you can enjoy nature and forget about your busy routine in the real world.
Last update on 2021-04-23 / Affiliate links / Images from Amazon Product Advertising API