Pop up tents erect instantly. They are a free standing tent – they don't need to be pegged down to create a structure. Pegging a pop up tent down is essential if you want to avoid your tent blowing away under even a gentle breeze. So pop up tents do come with pegs. What's more, it is important that you use the pegs too.
My husband and I love to travel and to camp. We visit numerous National Parks a year from Glacier National Park in Western Montana down to The Grand Canyon in Arizona. Every time we seek out a National Park or BLM land. For speed, we tent camp using a popup tent.
A popup tent is a fast and easy way to put up a temporary shelter around our explorations. They can be aggravating, and if we do not properly stake it down, the tent will blow away or collapse. There are a couple of things we do to ensure our family's fun does not get ruined.
What is a Pop up Tent?
A popup tent is extremely lightweight and the ideal tent camp for backpackers. It adds little weight to your back, and a single person can put it up within a matter of minutes.
Nowadays there are pop up tents available for 4 or more people. They are ideal for those just stopping for a single night. We can put the tent up in minutes and take it down without a problem.
We use a tent made for four people to provide space for our queen-sized air mattress and any items we want to store in a tent. I am small at only five feet tall and weighing only slightly more than one hundred pounds, and I can carry and pitch our tent myself.
How to you pitch a Pop up tent?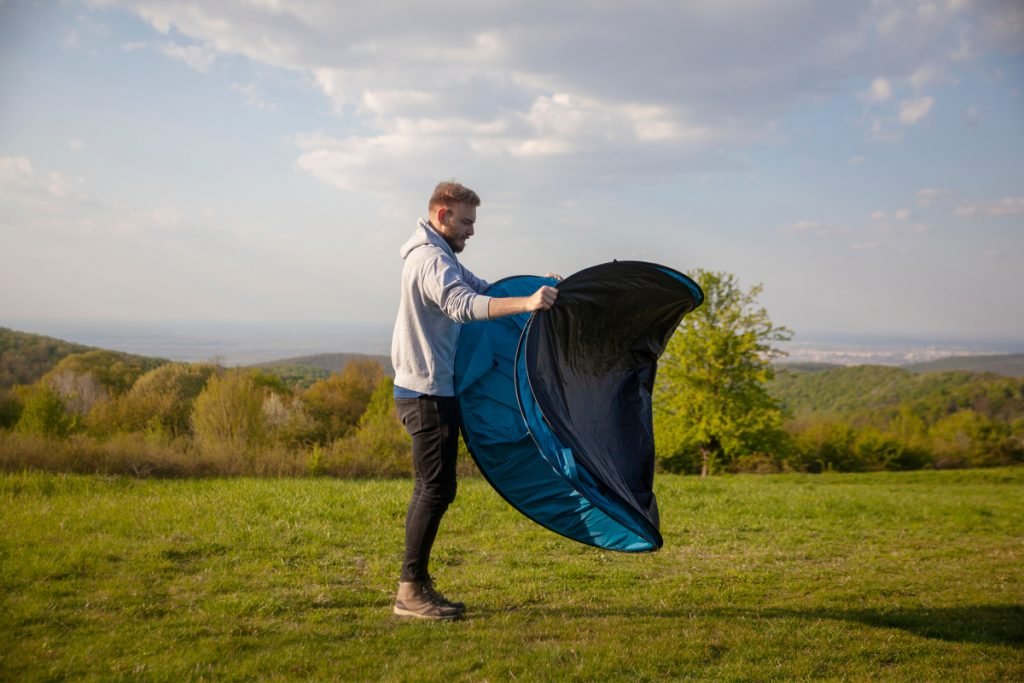 Pitching a popup tent is very easy to do. In fact, pop up tents almost explode into life as soon as you remove the restraints. That is really one of the problems with pop up tents – it's so easy that you forget to do some basic preparation.
Note: The instant tent setup is the main factor that defines a pop up versus an instant tent. Instant tents still need a small amount of manual intervention before they are ready for use.
There are several things, you need to do before and while you put up your tent.
1. Find a level Spot of Ground
I love to camp on top of mountains for the view, but finding a good and level spot is often difficult. We do not want to camp too close to the edge of a cliff for obvious reasons, and having some trees around can help break any wind that comes up any ridges. Finding that perfect spot takes time, so we start looking before we plan to stop for that best spot.
2. Remove any rocks and debris
Don't underestimate that small pointed rock. It will put a hole in the bottom of your tent. Most types of popup tents are polyester or nylon to make them lightweight, and while very durable against wind and rain, they do not hold up to very sharp rocks. Clear the ground of rocks, sticks, spiky plants, and anything that might damage your tent.
3. Lay out tent equipment
To make set up go easier, as you unpack your tent layout, everything that comes with the tent slightly away from your chosen campsite. We do this to make it easier to assemble quickly and to prevent losing parts of our tent as we assemble like my tent pegs.
4. Pull Restraining Bands
A Popup tent comes with restraining bands to hold the tent tightly together during transport and storage, by removing these bands, your tent will "pop" or fold open. Face your tent in the direction you choose for the door. It is also advisable to face the doorway of your tent downhill in case of rain.
5. Use Tent Stakes
I am good at adding tent stakes to the ground except when the ground is very firm or unusually rocky. I often carry extra stakes just in case I bend or break one. We start by staking the tent at the corners at forty-five-degree angles towards my tent, so it does not blow around in the wind.
6. Adjust Ropes
Guy ropes may cross your tent, so you should stake those down and adjust the amount of slack out of each rope. You will want any tent ropes to be very tight.
7. Double-check your tent
Once the tent is upright, make sure no pegs are lost and that nothing sliced your tent as it was assembled. We often find at least one sharp rock we missed trying to go through our tent bottom. Adjust as you need and start camping.
Taking Down a Pop Up Tent
Taking Down a tent when you are through is a little more complicated depending on the brand of tent. We recommend taking it slowly and make sure it is ultimately small enough to fit back in the carrying bag.
Do pop up tents have guy ropes?
Some types of popup tents have guide ropes for preventing the tent from blowing away. They are more common in regular tents, but extra stability and stability come from having them, and I often put up my own when the wind is up. I make my own using a regular water-resistant rope.
Are pop up tents any good?
Popup tents are excellent ways to enjoy quick, easy camping. I use them for backpacking as they are lightweight, and I don't plan to use them for more couple of days at a time. The quality varies between different brands and areas.
We have different types of tents for different areas. We camp in an area where it is warmer and windier. We use a tent that has a lot of windows and is easy to tack down. We have a more water-tight tent for fall or spring camping in wetter areas, because the more sun-friendly the tent is, we have discovered, the more likely it will be to leak if we end up using it in a wet area.
Are pop up tents waterproof/Do pop up tents leak?
Sadly, few tents sold for the US market are truly waterproof. Most are designed primarily for summer use. Waterproofing is not a top consideration. Pop up tents are the same.
A leaking tent is one I know a lot about. Trying to determine if a tent will leak depends on the age of the tent, it's manufacturing, and where we are. A lot of tents will sweat in areas where the temperatures vary quickly.
When we replace or add a tent to my collection, we look for the number of seasons we can use it with. A two-season tent is better for late spring, summer, or early winter. These tents are very breathable and perfect for keeping you cool during those hot summer nights.
A three-season tent is a very cost-effective option for someone that likes to camp spring, summer, and fall. The tent usually has tighter seals as well as multiple zip-open windows for airflow. Either way, a popup tent is a quick-design tent and can have problems in certain areas.
Are pop up tents worth it?
In my experience, popup tents are definitely worth it. I do a lot of backpacking with my husband, and their lightweight and small size has saved us more than once from an overloaded pack. We do not use them for camping in areas where we intend to stay for longer periods.
What stakes to use with a pop up tent
We always carry extra tent stakes when I go camping. We are never sure what kind of ground we will pitch my tent on, and some are better than others. There are two main types of tent stakes metal and plastic. The metal ones are either stainless steel or aluminum, and the plastic is fat or thin.
Take a look at the video below for an overiew on the types of stake available.
Metal Tent Stakes
Most pop up tents are sold with simple, steel, hook stakes. These are fine for general use but will not work too well on very hard or very soft ground.
We find metal stakes better for use in rocky areas as they are less likely to bend when we hammer them into the ground, though they must be thicker metal stakes, not thin pins, which can bend. We use them when camping in the mountains or a rocky desert area, though if we backpack out to our camping spot, we need to remember that they might poke a hole in bags or the tent while we carry them.
Plastic Tent Stakes
Plastic tent stakes are surprisingly tough. Cheaper ones are likely to bend or snap as your tent is buffeted by the wind.
Some of the thicker brands of tent stakes work very well except when the ground gets really rocky. We avoid the thin ones as they pull up or break before we use them at all.
What is the best pop up tent for family camping?
As you may know, we strongly recommend you look at tents rated for at least 2 more people than are likely to be in your family. In fact, where possible, we would always look for tents rated for 4 more people.
Pop up tents used to be largely designed for backpackers and festivals. Nowadays, there are a number of larger pop up tents that are just about suitable for family camping.
CampingSage Current Choice of Pop Up Family Tent
The Ayamaya pop up is a 4-6 person pop up tent.  What sets this tent apart from most of the competition is the inclusion of a entrance vestibule.  It's pretty large with internal dimensions of 12.5 x 8.5 feet.
Add a Pop Up Tent to Your Family Camping Pack Up
We found that, as our children got a bit older, they were desperate for some greater independence and wanted to sleep in their own tent. A popup tent is a great choice. It can be pitched in seconds by even very young children. You can erect it very close to your main tent so you can keep an eye on the children but still give them that feeling of independence and privacy.
Popup tents are a good way to separate your relatives into their own space as well. They tend to be crowded if more than two people camp together, but there are larger four-person popup tents that can help. It also makes it easy for different family groups to backpack and camp together.
Final Thoughts
Camping is fun. I do it as often as I can, but the tent I select depends on where I am and how long I plan to camp. Pop up tents work great for single night stays. The speed of erecting and taking down more than makes up for the lack of space.
If we are camping for longer than 2 nights we always look to our larger main tent.
Weather research and ingenuity help me through some night like the time I lost half my tent stakes on the trail. There is no such thing as the perfect tent, but I keep trying to make my tents work no matter where I am, and a popup tent is one of the best we have.