As a young married couple, we couldn't afford a vacation "get-away" for our family. Instead, we borrowed a cabin tent and went to a nearby lake. We were incredibly romantic and arguably out of our minds. We had three kids with us, the youngest in a bassinet.
That tent was a nightmare to put up. For three boisterous children and two grumpy over-heated adults it was a test of endurance. Thankfully, that was nearly forty years ago.
Man! I wish inflatable tents had been around then. Instead of spending hours of stony silence under the stress of things said in the heat of the moment ("I said pull the line taut, not pull it out of my hands") we might have relaxed in front of our inflated tent holding hands and watching the sun set.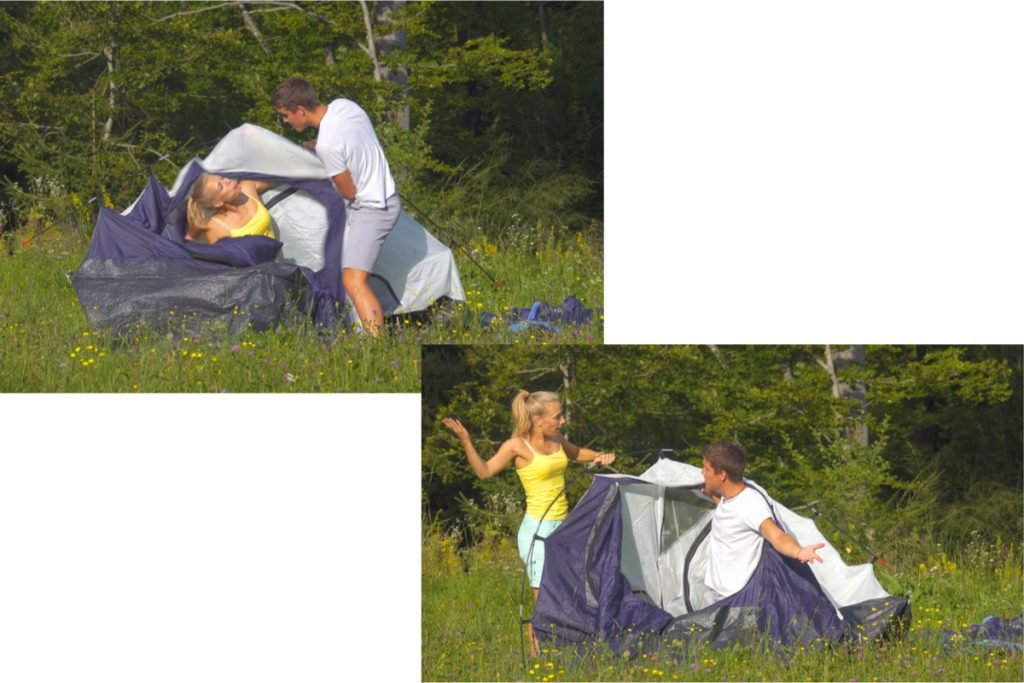 I still don't know if I would camp with a young baby again, but it was that pole tent which nearly wrecked our marriage. It took both of us to put the thing up. Okay, it took my husband and another guy who volunteered to help just to restore the peace to the campground.
After it was erected, though, and the little girls were wading at the water's edge, we sat in folding chairs with the baby sleeping peacefully nearby and held hands. Camping is good for a marriage, and it is good for a family. It is a good way to get away from the challenges we all face today and to remind ourselves there is still peace and beauty in the world.
What Is an Inflatable Tent?
When you hear of inflatable tents, you might think of a tent that is inflated like a balloon. You would need an airlock to get in and out so the tent stayed inflated.
In reality, the design of inflatable tents is very closely related to the design of pole tents. In many cases, once the tent is erected, it will look almost identical to a standard pole tent.
We have used the terms air tent and inflatable tent interchangeably.  Another term you may see is "Air Beam Tent". They all mean the same thing. 
Instead of poles, there are airtight pockets embedded or attached to the tent.  These are the air beams – the part of the tent that provides the tent shape, structure and strength.
To erect an air tent, you just pump air (hence the name) into the pockets.  A little air pressure later, and the pockets become rigid providing the support and structure of the tent. In some inflatable tents the air pockets may be interconnected. In this case, you can inflate the whole tent via a single inflation point.
In the inflatable tents we have reviewed, each air beam has a separate inflation/deflation point.
The air beams only require low pressures to become rigid – most need around just 6PSI. Achieving 6PSI doesn't require much additional air so it is easy and quick to pump up each air beam. Hand pumps are supplied.
How Do You Set Up an Inflatable Tent?
Inflatable tents are quick and easy to setup. Most come with integrated footprints. All you need to do is:
Unroll the tent
Make sure the footprint is fully extended and stake it down. For more complex tent shapes there may be several places where the footprint is to be staked
Inflate the air beams in the sequence provided by the tent manufacturer
For larger, heavier tents, you might need to help the first air beams to support the tent. This is where you may need a second person to help with the setup.
Once all the air beams are inflated, unroll and stake the guy ropes.
You will get a better idea of how to erect an inflatable time from the sample videos below.
Inflatable Versus Pole Tents
So, which is better? Pole tents or Inflatable Tents? As always, it is not a simple question. Before we even try to answer you should look at our post on Family Camping | How to Choose a Tent That is Right for Your Family. If you don't have time to read the whole of that article – the key point is that you need to be sure what you need from a tent (any tent) before buying. Here are some of the key points:
Size – need to be sure the tent is big enough. For family camping, we strongly recommend that you choose a tent that is rated for at least 2, and preferably, 4 more people that will be in your camping group
Height – if you are treating camping as your family vacation, you are likely to be staying at least 5 nights. Being able to stand upright inside your tent makes changing clothes in private so much easier
Doors and Windows – In the US, the biggest challenge for camping in tents is usually keeping the tent cool. Doors, windows, mesh and vents are all part of the tents ventilation scheme
Tough and robust – you tent needs to be tough enough to withstand the wind and weather, and robust enough to cope with housing your and your family
Waterproof – most tents are sold as being waterproof. Doors, windows and mesh all act to decrease the effectiveness of the waterproofing.
Packed size and weight – at campingsage, we are all about family camping, in tents, and in comfort. That means we use our car to transport all of our gear to our campsite. The smaller and lighter the packed tent, the easier it is to fit in the car.
For inflatable tents there are a few additional features to add to this list:
Speed of inflation
One person or two setup
Repair kits included? – Most inflatable tents come with self-adhesive, repair patches
So, now we have defined what we are looking for in a tent, which is better a pole tent or inflatable tent?
Inflatable Tent – Advantages
Speed of setup
Ease of setup
Very good in wind – see below
3/4 Season capability
Inflatable Tent – Dis-advantages
Weight
Limited design options
May have fewer doors/windows and other ventilation options
Price
Pole Tent – Advantages
Big range of tent designs. For example:

Dome tents
Cabin tents
Tunnel tents
Multi room tents
Instant tents

Lightweight
Smaller packed size
Size when erected – much bigger tents are available
Can often be split between 2 backpacks for use by hikers and backpackers (as family, car campers, this is not an advantage for us)
Modern pole tents are quick and easy to setup. Instant tents can be set up in a few seconds.
Price
Pole Tent – Dis-advantages
Larger pole tents can be complex to setup and may take at least 2 people
Not usually 3 season (they may be sold as 3 season tents but they are optimized for use in late spring, summer and early fall when the weather is warm only)
Depending on design, may not be good in wind or bad weather.
So, Is an Air Tent Better Than a Pole Tent
Are air tents better than pole tents? It is largely a matter of preference, of camping destinations and of what kind of weather you expect.
The range of conditions when the advantages of an air tent stand out is small. Most family campers are going to be better served by buying a standard pole tent.
A year ago it looked like air tents would soon outsell pole tents. Now it looks like that early promise has vanished – at least here in the US. If you take a look at Rei.com – you will see they offer just 2 air tents – both designed for the backpackers/hikers market. If you take a look at Cabelas.com – you won't find any air tents for sale.
So what's gone wrong?
We think a major issue is price. You can get a good family pole tent for less than $200. To get a family air tent you are looking at a starting price of about $500.
Another issue is that there are just so many more options with traditional tent designs. The resurgence of 'instant tents' which can be erected in seconds by extending and connecting a few poles, eats into the inflatable tent selling point of speed of set up.
It may also be the case that the design of air tents just doesn't suit our conditions. Most of us camp in summer. Keeping the tent cool is usually our biggest concern. For the most part, ventilation is not a major selling point for air tents.
When Should I use an Inflatable Tent?
If you want to camp "in the wild" after a five-mile hike, the inflatable tent might not be for you. The air tubes need to be tough so both keep the air pressure up, and, to support the weight of the tent. So inflatable tents are heavier than their more traditional alternatives.
Backpacking with a small inflatable for two people might not deter some campers. It certainly won't work for a family camping trip. Honestly for us, the day of punching through overgrown trails and scaling boulders with a backpack building blisters on our shoulders is long gone.
We don't need tiled showers and heated pools at a camp site, but, we appreciate a site that isn't too far away from the car.
That easy inflation feature gets more attractive every year. If you are camping with your family, however, the ease and speed of set up is more than offset by the limitations in size, weight and price.
The only time we would consider using an Air Tent is when we are expecting to be camping regularly in sites with strong winds and foul weather.
How Good Are Air Tents in the Wind?
Air tents cope with strong winds very well. Think of a tree bending with the wind. The inflated air tubes work the same way. The tent will bend to teh wind, but, if it is properly tied down, footprint staked, and, all guy ropes deployed, tight and adequately staked, they will cope with most winds.
Rigid poles will also bend in a strong wind. Eventually, if the wind persists for too long or gets too strong, tent poles can, and will, break.
What Inflatable Tent Should I Buy?
The range of inflatable tents suitable for family camping is small. While we love the promise of inflatable tents we feel the reality is taking quite a while to realize.
As you know, for a family of 4 we strongly recommend a tent rated for 6, or, preferably, 8 people. There are not too many inflatable tents in this category.
Some great examples include:
We love the quirky looks of the Heimplanet tents. Some people hate it. Looks aside, the Heimplanet Original is a lot of tent for the money.
Packing Size: 20x10x8in
Weight: 13lbs
Ground Area: 96 square feet. That compares favorably with our top choice for 6-person tents (the smallest tent we review for family camping) – The Coleman Carlsbad Fast Pitch which provides just 90 square feet usable space. However, the Heimplanet Cave tent includes a full fly. The usable area inside the tent is likely to be around 80 Square feet.
Sleeps 4 people. We haven't tried it but if you want to sleep on an air mattress, we think you could only get one in this tent
For us, this is a mountain tent. The full fly is waterproofed to 5000mm. While the inner tent has mesh panels for ventilation, that fly sheet is going to stop most air flow dead.

Even the biggest inflatable tent enthusiast would struggle to love the looks of the Heimplanet Nias
Here are some of the key features:
Packing Size: 24x12x10in
Weight: 13.2lbs
Ground Area: 107 square feet,
Double-layer air struts
Water proofed to 5000mm water column
Interconnected air chambers – tent can be inflated from one valve. Once inflated, each chamber can be isolated to provide stablility should a chamber fail
If you would like to see more air tent options, take a look at amazon.co.uk. It seems the Europeans have embraced air and inflatable tents in a big way.
Here's some examples (remember these are from Amazon.co.uk and may not be available in the US)
This Coleman six-man ( read: four-person) model has the inflatable poles for stability and features a covered porch where you could set up a picnic table.
This tent is a brilliant family tent. There are two bedrooms and a "family room" . Take a look at this video for a better idea.
Sadly, this tent is not available in America.
So, Are Air Tents Better Than Pole Tents?
So, if they are available, are inflatable tents worth the money? A year or 2 ago we would have said, "probably". Now, with the lack of affordable family air tents available, the answer has to be "no".
No matter which way you go, we suggest you give tenting a try. There is something special about getting up early and greeting the sunrise sitting on a log with a mug of hot coffee in your hands. There is no better morning music than bird song. That is, if you haven't been up all night with a two-month-old.